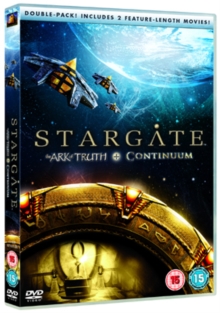 Stargate: Continuum/Stargate: The Ark of Truth
DVD
Description
Double bill of sci-fi adventures featuring the SG-1 crew. 'Stargate: Continuum' (2008) begins with SG-1 attending the execution of Ba'al (Cliff Simon), the final Goa'uld System Lord.
When Teal'c (Christopher Judge) and Vala (Claudia Black) suddenly disappear into thin air, Carter (Amanda Tapping), Daniel (Michael Shanks) and Mitchell (Ben Browder) travel back to Earth to discover that history has been altered, and, in this new timeline, the Stargate programme has never been discovered.
When they try to convince the military that the timeline has been altered and that Ba'al is responsible, hundreds of Goa'uld ships suddenly arrive in orbit, led by Ba'al, his queen, Qetesh (Vala), and his first prime, Teal'c.
It's now up to O'Neill (Richard Dean Anderson) and the rest of the crew to find the Stargate and set things right before the Goa'uld take over the world. 'Stargate: The Ark of Truth' (2008) is set immediately after the conclusion of Stargate SG-1's 10th season.
The Ark of Truth is an ancient artefact which can bestow enormous powers upon those who possess it.
The Stargate team, anxious to halt the impending Ori assault on Earth, finds itself in a desperate race against time to find the artifact.
Information
Format: DVD
Region: 2
Certification: (12)
EAN: 5039036039482
Catalogue number: 3874801000
Studio: 20th Century Fox Home Ent.
Release date: 08/12/2008
Genre: Science Fiction
Colour: Colour
Free Home Delivery
on all orders
Pick up orders
from local bookshops