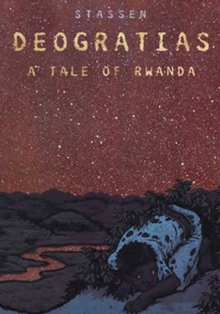 Deogratias : A Tale of Rwanda
Paperback
Description
This is the story of a boy caught up in an unthinkable horror; a major achievement of storytelling and artistry.
This is the harrowing tale of the Tutsi genocide in Rwanda, as seen through the eyes of a boy named Deogratias.
He is an ordinary teenager, in love with a girl named Benigne, but Degratias is a Hutu and Benigne is a Tutsi who dies in the genocide, and Deogratias himself plays a part in her death.
As the story circles around but never depicts the terror and brutality of an entire country descending into violence, we watch Deogratias in his pursuit of Benigne, and we see his grief and descent into madness following her death, as he comes to believe he is a dog.
Told with great artistry and intelligence, this book offers a window into a dark chapter of recent human history and exposes the West's role in the tragedy.
Stassen's interweaving of the aftermath of the genocide and the events leading up to it heightens the impact of the horror, giving powerful expression to the unspeakable, indescribable experience of ordinary Hutus caught up in the violence.
Difficult, beautiful, honest and heartbreaking, this is a major work by a masterful artist.
Information
Format: Paperback
Pages: 96 pages
Publisher: Roaring Brook Press
Publication Date: 02/05/2006
Category: General
ISBN: 9781596431034
Free Home Delivery
on all orders
Pick up orders
from local bookshops
Reviews
Showing 1 - 3 of 3 reviews.
Review by edspicer
16/06/2015
The history of Rwanda is mind numbingly sad, with torture and genocide back and forth between Hutu and Tutsi peoples. Stassen has written a complex, stylistic, and chilling story of the degradation that characterizes the struggles in Rwanda. Deogratias is a Hutu boy in love with Benina, a Tutsi girl. The story travels back and forth in time (pay attention page layout and design!). On page 27 Deogratias begins transforming into something less than human. The artwork hints at the dog he becomes. When Deogratias travels to meet Benina, she decides to become intimate with him. However, sex and male/female relationships in Rwanda between Hutu and Tutsis are not generally associated with love and romance. Deogratias relies on the beer-like Urwaga to help him through this night. His artwork profile changes; Deogratias is now more animal than human. This book would not be nearly as powerful if it were text only. Perhaps this will be the first graphic novel to win Printz recognition? The Printz does not concern itself at all with popularity; Deogratias will NOT be popular. It is a chilling, difficult book to experience. The natural world is turned upside down in this book, the subject matter brutal. Our inclination is to avoid seeing. Deogratias is worth a look, especially for readers who wonder about the literary value of graphic novels. Recommended for high school libraries.
Review by astreet
16/06/2015
Deogratias is very disturbing. I was haunted by pictures of a rape scene and by pictures suggesting prostitution. I would never recommend this book to anyone who is below upper high school. Even then, I probably would not recommend it. Although I believe it to be a realistic portrayal, I don't believe that it's worth putting such violence, profanity, racism, and pure evil in your mind. I wish I had not read this book. I also found it to be confusing, and I could not bear to take the time to reread to get a better understanding.
Review by kottenbrookk
16/06/2015
Deogratias is a heart-wrenching graphic novel about the genocide in Rwanda that requires both a developed ability for comprehension and advanced emotional maturity, but tells its story with rare honesty and poignancy. The story follows an unsettled young man, Deogratias, and begins after the genocide is over. Through a series of flashbacks, the reader learns that Deogratias, a Hutu, is guilty of reluctantly participating in the slaughter of Tutsis, including several of his own friends. Deogratias has lost his mind as a result and believes that he turns into a dog, like the ones he saw eating his friends' bodies, at night. The illustration is done in dark lines and simple, bold colors. The characters are expressive, even grotesque at times, reflecting their personalities. The dialogue is often stiff, which is likely a result of its translation. Both the language and images are graphically violent, but such violence is well-suited to the story. Because the flashbacks are signalled by subtle changes in colors and characters' appearance, the story's progression can be confusing. An introduction by the translator is helpful for readers who are not familiar with the events portrayed. Though it is often jarring and is not appropriate for younger readers, Deogratias tells an important story and will strongly impact those who read it. Recommended. Grade 11+