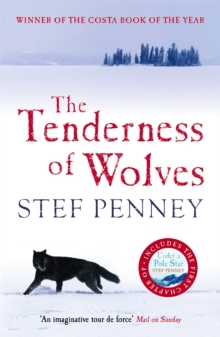 The Tenderness of Wolves
Paperback
Description
10 YEAR ANNIVERSARY EDITION - FEATURES READING GROUP QUESTIONS AND NEW MATERIAL FROM STEF'S UPCOMING EPIC NOVEL, UNDER A POLE STAR COSTA AWARD WINNER and WORLDWIDE BESTSELLER.
A breathtaking tale of mystery, buried secrets and romance, set in nineteenth century frontier Canada - for fans of THE SNOW CHILD and A PLACE CALLED WINTER. 'Unquestionably atmospheric, evocative and rewarding' Independent on Sunday 'A tense and delicately written thriller' Observer Canada, 1867.
A young murder suspect flees across the snowy wilderness.
Tracking him is what passes for the law in this frontier land: trappers, sheriffs, traders and the suspect's own mother, desperate to clear his name.
As the party pushes further from civilisation, hidden purposes and old obsessions are revealed.
One is seeking long-lost daughters; another a fortune in stolen furs; yet another is chasing rumours of a lost Native American culture.
But where survival depends on cooperation, their fragile truce cannot afford to be broken, nor their overriding purpose - to find justice for a murdered man - forgotten. The Tenderness of Wolves is a must-read historical epic, weaving adventure, suspense and humour into an exhilarating thriller, a panoramic romance and ultimately, one of the books of the last ten years.
Information
Format: Paperback
Pages: 496 pages
Publisher: Quercus Publishing
Publication Date: 01/02/2007
Category: Historical mysteries
ISBN: 9781847240675
Free Home Delivery
on all orders
Pick up orders
from local bookshops
Reviews
Showing 1 - 5 of 8 reviews.
Previous | Next
Review by murraymint11
06/05/2016
I really enjoyed reading this book; I became immersed in it. The descriptions of the cold and the landscape were excellent. I almost felt the freezing conditions, despite the warm sunshine outside here. I enjoyed absorbing the characters, and read the story at a slow, comfortable pace, not wanting to rush to the end. I felt the book had a feel of Cold Mountain about it with the remote/harsh environment and the sad ending.My one critisism would be the very occasional use of the 'F' word which felt out of place and too modern.Favourite characters: Moody, Parker and Mr Knox
Review by bibliobibuli
06/05/2016
As it turned out, this book was just the read I needed: a rattling good yarn I could slip into my bag and read in odd moments. Stef Penney sets her novel in mid C19th Canada and chucks in a whole load of ingredients ... murder, mysterious disappearances, codes to be cracked (one which may hold the secret of an ancient written Native American language and the other a fortune in furs), love stories (gay and straight).If the story has a weakness it is that I think the author tried to cram in too much, and in parts, especially where the backgrounds of various characters were fleshed out, it seemed terribly rushed. There were an awful lot of threads to bring together by the end of the book, and whilst Penney largely managed this, some parts were left hanging.I was sad that we did not have a chance to see the protagonist Mrs. Ross (what is her first name??) reunited with her adopted 17 year old son Francis after she finally (and how could she really miss all the clues?) realises that he is gay and that the murdered man was his lover.And why was she in an asylum in Scotland ... and what does that have to do with the main drift of the story?And why was there so little about the wolves?The cast of characters is also very large - and some came alive rather more than others. Francis intrigued me. I liked the warm-hearted but bumbling accountant, Donald Moody, still trying to find his feet with the Hudson Bay Company.But I loved the huge and ugly half-Mohawk, half-English trapper William Parker, and was so glad that Mrs Ross ended up warming her frostbitten fingers in his armpits ... even if I'd have liked something a lot steamier to melt the frozen Tundra.Some characters didn't rise very far of the page though, including Knox and his wife and daughters. Others were well drawn but didn't have enough of a role in the book in my opinion, e.g. Jacob and Sturrock.I also felt that the narration worked best in Mrs. Ross' first person, and got annoyed with the godlike omniscience with which the other chapters were narrated.But as I say, a very good read which I'd recommend as I think many of you will enjoy it.And I wouldn't be surprised to see it makes New York Times bestseller list.
Review by dmsteyn
06/05/2016
The Tenderness of Wolves is a good, plot-driven novel, which won the Costa Book of the Year award in 2006. The title is probably the best aspect of the novel, but that isn't meant to disparage Penney's book. I really enjoyed the story, which has pace and interesting plot twists. The writing is strong without being exceptional, and the characters are clearly delineated. There were a few too many of them, however, and some of them get lost (figuratively, though several get literally lost as well) towards the end of the book.It is 1867. A trapper is brutally murdered in rural Canada, and a young man from the same community goes missing. Suspicions immediately fall on the missing man, but things are not all that they seem. The young man's mother, desperate to find her son and prove his innocence, sets off into the wilderness on his trail. The book's other characters get embroiled in this story, as they either assist or block her attempts to find her son. The plot also involves the discovery of a Native American written language and stolen furs.As I mentioned, I enjoyed the story. I thought it could have been more streamlined, but as it was Penney's debut, I guess that's forgivable. I'm not much for thrillers, but I'm not sure that this really was a thriller or crime novel. It is much more of a human drama, though it certainly has elements of the abovementioned genres.I should mention that I read the book a few weeks ago, and the characters have already grown dim in my memory – I cannot even recall the name of the main character (the mother). Whether this is because of bad memory, or because the book is forgettable, I don't know. I can recall the details of the plot, however.So, an enjoyable book, but not a great one. I'm not sure I'll be reading more of Penney's. I guess it'll depend on the subject matter of her newer books.
Review by mabe
06/05/2016
I feel I would have enjoyed the book more had I been able to put out of mind the fact that the writer had never been to Candada.
Review by morag_eyrie
06/05/2016
I quite enjoyed this, the plot unfolded well and I read eagerly. But in the end it was a bit thin, and I thought it showed that the writer had never visited Canada.