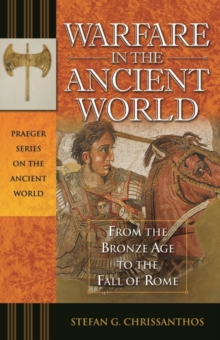 Warfare in the Ancient World : From the Bronze Age to the Fall of Rome
Hardback
Description
From the clash of bronze weapons on bronze armor to the fall of Rome, war often decided the course of ancient history.
This volume is a practical introduction to the study of warfare in the ancient world, beginning with Egypt and Mesopotamia, and tracing the advances made in battle tactics, technology, and government over hundreds of years, culminating with developments in Greece and the Roman Empire.
The chronological structure allows the reader to trace certain general themes down through the centuries: how various civilizations waged war; who served in the various armies and why; who the generals and officers were who made the decisions in the field; what type of government controlled these armies; and from what type of society they sprang.
Major events and important individuals are discussed in their historical contexts, providing a complete understanding of underlying causes, and enabling readers to follow the evolution of ancient warfare as armies and empires became steadily larger and more sophisticated.
Yet as Chrissanthos makes clear, history comes full circle during this period.
Rome's collapse in 476 C.E. inaugurated an unforeseen dark age in which great armies were left decimated despite advanced technology that, while proving decisive in the outcome of many critical battles and stand-offs, had vanished amidst the Empire's crumbling walls. In addition to the chronological treatment, Chrissanthos also includes sections on such important topics as chariot warfare, cavalry, naval warfare, elephants in battle, the face of battle, and such vital, but often-overlooked topics as the provisioning of the army with sufficient food and water.
Eyewitness accounts are incorporated throughout each chapter, allowing the reader brief glimpses into the life and times of peasants and soldiers, generals and politicians, all of whom were dealing with war and its irreconcilable consequences from differing vantage points.
Battle diagrams and maps are carefully placed throughout the text to help the reader visualize particular aspects of ancient warfare.
The book also furnishes a detailed timeline and an extensive bibliography containing both modern and ancient sources.
Information
Format: Hardback
Pages: 248 pages
Publisher: ABC-CLIO
Publication Date: 30/10/2008
Category: General & world history
ISBN: 9780275985196
Free Home Delivery
on all orders
Pick up orders
from local bookshops
Also by Stefan G. Chrissanthos