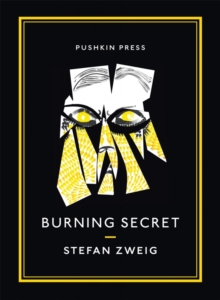 Description
Burning Secret (Brennendes Geheimnis) is a darkly compelling coming-of-age story-a tale of seduction, jealousy and betrayal from the master of the novella, Stefan ZweigA suave baron takes a fancy to twelve-year-old Edgar's mother, while the three are holidaying in an Austrian mountain resort.
His initial advances rejected, the baron befriends Edgar in order to get closer to the woman he desires.
The initially unsuspecting child soon senses something is amiss, but has no idea of the burning secret that is driving the affair, and that will soon change his life for ever.'The rediscovery of this extraordinary writer could well be on a par with last year's refinding of the long-lost Stoner, by John Williams, and which similarly could pluck his name out of a dusty obscurity.' Simon Winchester, Telegraph Breathtaking ... the final sentence is unlike anything I have ever read before; and transforms not only the book, but, in a way, the reader as well. ' - Nicholas Lezard, The Guardian Zweig is the most adult of writers; civilised, urbane, but never jaded or cynical; a realist who none the less believed in the possibility-the necessity-of empathy.'- The Independent Stefan Zweig (1881-1942) was born in Vienna, into a wealthy Austrian-Jewish family.
He studied in Berlin and Vienna and was first known as a poet and translator, then as a biographer.
Zweig travelled widely, living in Salzburg between the wars, and was an international bestseller with a string of hugely popular novellas including Letter from an Unknown Woman, Amok and Fear.
In 1934, with the rise of Nazism, he moved to London, where he wrote his only novel Beware of Pity.
He later moved on to Bath, taking British citizenship after the outbreak of the Second World War.
With the fall of France in 1940 Zweig left Britain for New York, before settling in Brazil, where in 1942 he and his wife were found dead in an apparent double suicide. Much of his work is available from Pushkin Press.
Information
Format: Paperback
Pages: 128 pages
Publisher: Pushkin Press
Publication Date: 01/01/2008
Category: Classic fiction (pre c 1945)
ISBN: 9781901285857
Other Formats
EPUB from £5.60
Paperback / softback from £6.90
Free Home Delivery
on all orders
Pick up orders
from local bookshops
Reviews
Showing 1 - 3 of 3 reviews.
Review by hemlokgang
16/06/2015
A beautifully written novella about loss of innocence and the "burning secrets" of life and love. This is my first Stefan Zweig read and I am really impressed. Reading this novella started off a year long group read of Zweig works, and I eagerly anticipate the next books I will be reading. This book has everything I look for; great characters, a compelling plot, and above all, absolutely beautiful writing!
Review by richardderus
16/06/2015
The Book Report: Wet, drippy little Edgar, his bored, would-be glam mama Mathilde, and the louche horndog Count Otto meet in an Austrian mountain resort. Otto takes a fancy to Mathilde, since she's a visibly bored Jewess of a certain age. He decides he'll lay siege to her virtue via befriending little larva Edgar, who mistakes his overtures for real friendship because it's never occurred to him that adults lie, cheat, and steal in pursuit of sex. After revolting Count Otto thinks he's about to achieve the leg-over, he drops Edgar, and his troubles begin. Hell hath no fury, apparently, like a barely pubescent boy disappointed in love. What this nasty little child dreams up to do to the perfidious, selfish adults is really quite impressive! In the end, his life is completely changed, and one rather trembles at the path his future will take...*cue Horst Wessel*....My Review: Peopled with deeply dislikable characters, and set in an anonymous vacation destination with no sense of permanence, it's a little hard to invest in the dramatis personae for a goodly stretch of time. I don't think I ever really did all the way. I don't care at all about anyone here, in that if each of them had fallen off an Alp I would've pursed my lips, tutted, and gone about my day.But the story is a very involving one, paradoxically, because the nature of love comes in for a pretty thorough and fairly damning examination, one that would have seemed very risky for Jewish Zweig to conduct so openly in 1913, the year it was published. The love of mother for son, of son for mother, and mother for sex is explicitly explored. The love of any one of these people for anything is revealed in all its unglory as deeply selfish and terribly destructive, as my cynical heart believes love always to be. (Want to screw up a friendship? Fall in love with your friend! *bang* goes any hope of remaining on good terms...but I digress.)A movie version of this novella, starring Faye Dunaway, appeared about 25 years ago. It wasn't very good. I am amazed at that, since Zweig's writing is so clear and simple that I'd think it was a shoo-in to have excellent dialogue come out of the characters' mouths. C'est la vie, as conventionally Francophile Mathilde would say...doubtless in a heavy Viennese accent.So, okay, the point is: Recommended to Zweigers, cynics, and those with pubescent boys at home. Romantics, leave on shelf. "Life is Beautiful" and "La Traviata" fans, turn your backs upon. Multi-eyed, part-alien cyborgs, read and learn...this is what humans are *really* like, and it's not a terribly pretty picture.
Review by ariesblue
16/06/2015
A lonely twelve-year-old boy Edgar, befriended a charming,lady-killer baron.it was some time before the naive Edgar realizes the true motives behind the Baron's kindness and interest, When his adored friend meanly give up on his friendship and turns his seductive attentions to his mother, the boy's jealousy and insecurity feelings of betrayal become uncontrollable, Once Edgar recognizes the truth,he is invaded by new and previously unknown emotions and new behaviors.....<br/>It was painful for that boy, who progresses from his childish dreams into the adult world of Deception ,dishonest and evil in only a few days......<br/><br/>Edgar's mother was at first resistant to the Baron charms......<br/><br/>but after a while she was getting many mixed feelings of regretting having stayed faithful to a husband she never really loved,she is still young ,beautiful and desirable, an urgent choice between maternal and feminine love........her son was her inner voice of conscience...<br/><br/><br/><br/>