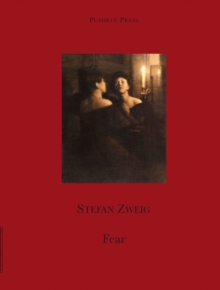 Description
A bourgeois housewife's affair is discovered, and a blackmailer turns her comfortable life into a nightmare of apprehensionFinding her comfortable bourgeois existence as wife and mother tedious after eight years of marriage, Irene Wagner brings a little excitement into it by starting an affair with a rising young pianist.
Her lover's former mistress begins blackmailing her, threatening to give her secret away to her husband, meanwhile her husband seems to offer her numerous opportunities to confess and be forgiven.
Irene is soon in the grip of agonizing fear. Written in the spring of 1913, and first published in 1920, this novella is one of Stefan Zweig's most powerful studies of a woman's mind and emotions.'The rediscovery of this extraordinary writer could well be on a par with last year's refinding of the long-lost Stoner, by John Williams, and which similarly could pluck his name out of a dusty obscurity.' Simon Winchester, TelegraphStefan Zweig (1881-1942) was born in Vienna, into a wealthy Austrian-Jewish family.
He studied in Berlin and Vienna and was first known as a poet and translator, then as a biographer.
Zweig travelled widely, living in Salzburg between the wars, and was an international bestseller with a string of hugely popular novellas including Letter from an Unknown Woman, Amok and Fear.
In 1934, with the rise of Nazism, he moved to London, where he wrote his only novel Beware of Pity.
He later moved on to Bath, taking British citizenship after the outbreak of the Second World War.
With the fall of France in 1940 Zweig left Britain for New York, before settling in Brazil, where in 1942 he and his wife were found dead in an apparent double suicide. Much of his work is available from Pushkin Press.
Information
Format: Paperback
Pages: 112 pages
Publisher: Pushkin Press
Publication Date: 05/01/2010
Category: Classic fiction (pre c 1945)
ISBN: 9781906548186
Free Home Delivery
on all orders
Pick up orders
from local bookshops
Reviews
Showing 1 - 4 of 4 reviews.
Review by kidzdoc
16/06/2015
Irene is a young and attractive woman of the cultured class in early 20th century Vienna, whose husband is a successful and respected trial lawyer. Irene is materially content but bored, as servants care for her children and govern the house, and she spends her days in the company of her all too similar friends. She is lured into an affair with a promising young pianist, which gives her life spark and an alternative sense of purpose.As she leaves her lover's apartment one day, Irene is accosted by a raffish woman, who accuses her of stealing her man. The woman threatens and bullies her, and Irene gives her all the money she has, to avoid a public scene. She attempts to hide indoors for several days to escape the mysterious woman, but the shock and concern of her husband, children and servants cause her to become more claustrophobic and distraught. Irene experiences a brief sense of relief, believing that the woman does not know who she is or where she lives, until she turns up outside of Irene's building, demanding even more money.At that point Irene's world begins to simultaneously crumble and shrink, as she knows that disclosure of her affair would lead to ruin for her husband's career and end her life of comfort. As the woman's demands become more frequent and as her family becomes more suspicious of her unusual behavior, Irene devises a plan to escape her tormentor, for good.<i>Fear</i> is a gripping psychological thriller, which left me short of breath and on the edge of my chair, as Zweig masterfully portrays Irene's increasing despair and irrationality. Highly recommended!
Review by DieFledermaus
16/06/2015
In this short, addictive novella, Zweig stays in the head of a woman who learns that her adultery has been discovered. It's a rather claustrophobic place. Irene Wagner has a comfortable life with a considerate husband and adored children. She falls into an affair with a pianist, but one day as she is leaving his place, she is confronted by a woman who starts to blackmail her. The rest of the book is mostly concerned with Irene's inner torment, as she tries to act normal but ends up refusing to go out, alienating her husband and contemplating suicide. She starts to wonder if she knows her husband, a celebrated prosecutor, at all – she has no idea how he'd react to the news. There are some plot twists but the most powerful part is Zweig's depiction of a woman's fear and desperation. It's a quick story but very intense and Zweig is skilled at portrayed Irene's psychological state.
Review by Smiler69
16/06/2015
The wife of a prominent Viennese lawyer who has been having an affair with a young musician is accosted by a woman in the street one day. The young woman, visibly in dire straits, claims to have also been one the the musician's mistresses, and begins to allude to blackmail, to which the married woman responds by giving her all her money. Before long the blackmailer is demanding increasing sums every day and our heroine is terrified of being found out by her husband, even as he repeatedly encourages her to share the fears that have her screaming out at night. A psychological drama which is a product of it's time (1910s-1920s) with the roles of men and women narrowly defined, but in which human nature and the nature of fear itself are played out to great effect. My second short story by Zweig, it had me weeping (from sadness? from relief?) in the end.
Review by MSarki
16/06/2015
Fine little novella. Engaging and suspenseful. True to life. Stresses actually how important it is to communicate with one another.