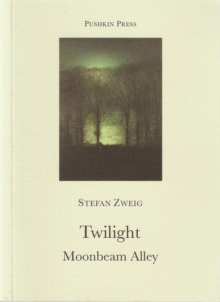 Twilight and Moonbeam Alley
Paperback
Description
A French country estate, and a dive bar in the sailors district of a German port provide the backdrop for these two exquisite stories'Twilight' is the story of a fashionable lady who is banished from Versailles by the king.
She tries to make the best of living on her country estate, but although she entertains lovers and friends from Paris, she comes to find it intolerable.
Life at court, for all its essential emptiness, was the only thing that gave her existence meaning, and she moves inexorably towards suicide.
In 'Moonbeam Alley', a traveller delayed in a French port explores the sailors' quarter.
Enticed by a voice singing an aria, to a bar near the harbour, he learns the story of those who run it and frequent it: a tale of violence, unrequited passion, and a marriage that is no true marriage.Stefan Zweig (1881-1942) was born in Vienna, into a wealthy Austrian-Jewish family.
He studied in Berlin and Vienna and was first known as a poet and translator, then as a biographer.
Zweig travelled widely, living in Salzburg between the wars, and was an international bestseller with a string of hugely popular novellas including Letter from an Unknown Woman, Amok and Fear.
In 1934, with the rise of Nazism, he moved to London, where he wrote his only novel Beware of Pity.
He later moved on to Bath, taking British citizenship after the outbreak of the Second World War.
With the fall of France in 1940 Zweig left Britain for New York, before settling in Brazil, where in 1942 he and his wife were found dead in an apparent double suicide. Much of his work is available from Pushkin Press.
Information
Format: Paperback
Pages: 104 pages
Publisher: Pushkin Press
Publication Date: 04/01/2005
Category: Classic fiction (pre c 1945)
ISBN: 9781901285574
Free Home Delivery
on all orders
Pick up orders
from local bookshops
Reviews
Showing 1 - 3 of 3 reviews.
Review by rainpebble
16/06/2015
"Twilight" by Stefan ZweigMy thoughts and comments:"Twilight" by Stefan Zweig is a wonderful short story about a woman who has for all practical intents and purposes ran the court of the King of France. It is based on the true life of Madame de Prie. It is not a pretty story but I am finding that Zweig writes nothing but good stories. Madame de Prie is asked by the King to leave court and expels her to her country estate. I don't believe we ever truly find out the reason she falls out of favor unless it has to do with one of her lovers at court, the Duke of Bourbon, who is likewise dismissed from his duties as prime minister in charge the affairs of state.At any rate, Madame de Prie finds living in the country and away from court to be unbearable and this is the story of her state of mind throughout her exile to her death.It is not a pretty story, but it is a wonderfully written one and one I highly recommend.
Review by kidzdoc
16/06/2015
This was another excellent short story collection by Zweig, consisting of the novella <i>Twilight</i> and the short story <i>Moonbeam Alley</i><i>Twilight</i> narrates the last days of Madame de Prie (1698-1727), a beautiful but vacuous and conniving noblewoman, who was the mistress of the prime minister of King Louis XV. She was the most powerful person in the kingdom for a time, until she was banished from Versailles by the King after a power struggle. Although she lived in luxury in Courbépine, de Prie became increasingly agitated and despondent in exile from French high society, and finally decides to stage a spectacular event that will make her the talk of Paris.<i>Moonbeam Alley</i> is a short story about a visitor who spends the night in a French coastal town after missing an evening train, who encounters a man desperate to win back the woman he loves and has lost.
Review by DRFP
16/06/2015
I thought <i>Twilight</i> a very nice short story about Madame de Prie that superbly captures her range of upset emotions following her fall from power. Although lighter in touch than some of Zweig's other shorts this was still very good. <i>Moonbeam Alley</i> was a slightly less well crafted story. The atmosphere is nicely built up to begin with but the blurted life story near the climax seemed rather heavy handed, unusually for Zweig.One pretty good story, one fairly average story. Three stars seems about right. There are better collections of Zweig's short work around.