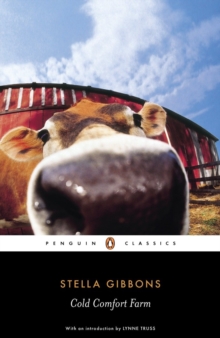 Cold Comfort Farm
Paperback
Description
A witty portrait of rural England in the early twentieth century, the Penguin Classics edition of Stella Gibbons's Cold Comfort Farm is introduced by Lynne Truss, author of Eats, Shoots and Leaves. When sensible, sophisticated Flora Poste is orphaned at nineteen, she decides her only choice is to descend upon relatives in deepest Sussex.
At the aptly-named Cold Comfort Farm, she meets the doomed Starkadders: cousin Judith, heaving with remorse for unspoken wickedness; Amos, preaching fire and damnation; their sons, lustful Seth and despairing Reuben; child of nature Elfine; and crazed old Aunt Ada Doom, who has kept to her bedroom for the last twenty years.
But Flora loves nothing better than to organise other people.
Armed with common sense and a strong will, she resolves to take each of the family in hand.
A hilarious and ruthless parody of rural melodramas and purple prose, Cold Comfort Farm is one of the best-loved comic novels of all time. This new Penguin Classics edition includes an introduction by Lynne Truss discussing Stella Gibbons's unconventional life and career and her joyously satirical voice. Stella Gibbons (1932-89) novelist, poet and short-story writer, was educated at North London Collegiate School and studied journalism at University College, London.
She then worked for ten years on various papers, including the Evening Standard and published several books of poetry and short stories. If you enjoyed Cold Comfort Farm you might like George and Weedon Grossmith's Diary of a Nobody, also available in Penguin Classics. 'Brilliant ...very probably the funniest book ever written' Julie Burchill, Sunday Times 'Literary bliss' Guardian
Information
Format: Paperback
Pages: 256 pages
Publisher: Penguin Books Ltd
Publication Date: 26/10/2006
ISBN: 9780141441597
Other Formats
Paperback from £5.05
EPUB from £3.99
CD-Audio from £16.25
Paperback / softback from £5.45
Hardback from £15.35
Free Home Delivery
on all orders
Pick up orders
from local bookshops
Reviews
Showing 1 - 5 of 6 reviews.
Previous | Next
Review by Kasthu
16/06/2015
A tongue-in-cheek satire, Cold Comfort Farm is a novel about a young woman named Flora Poste, who goes to live with her cousins, the Starkadder family, on their farm in Sussex. It's a cast of characters, to be sure: Judith and Amos, and their children, Seth, Reuben, and Elfine; and a host of others, including the reclusive Aunt Ada Doom, who hasn't left her room in 20 years because she saw something nasty in the woodshed when she was a child. One by one, Flora takes on each member of the family, acting as a sort of fairy godmother, especially to Elfine.It's a funny novel, but not overtly so. For example, I loved the part where Mr Mybug (not really his name, but no matter) regales Flora with his theory about Branwell Bronte being the author of Wuthering Heights. In this way Stella Gibbons parodies the classic Victorian novels, as well as many of the women's novels of the 1930s (many of which were reprinted by Virago Modern Classics, so I kind of have a point of reference). As with most satirical novels, it's over the top, but so over the top that it becomes unbelievable. But it's an odd book, nonetheless, especially since Gibbons set it sometime in the future (from 1932). But we don't know exactly what year it's supposed to be, so the events in this novel take place in a kind of vacuum. It's bizarre, but bizarre in a good way!
Review by TPauSilver
16/06/2015
Cold Comfort farm is surprisingly funny and quite delightful. It's a wonderful parody. On losing her family Ms Poste makes up her mind to live with her relatives on Cold Comfort Farm, a tumbled down farm house full of tumbled down relatives. She takes it on with great detremination, sorts them all out, dragging them out into the real world one at a time and sending them on their way. This book is hillarious and deeply readable.
Review by kant1066
16/06/2015
This book is hilarious. More than once I made a fool of myself while reading it in front of other people, bursting out in spontaneous laughter when I got to a particular passage. It is pure parody. But of course, it helps to know what is being parodied: the object of derision here is the rustic, rural life portrayed in countless novels by D. H. Lawrence, Thomas Hardy, and Mary Webb. But even if you're not familiar with the dark, brooding nature of some of these characters, I think the book remains funny because it has aged very well. The book begins with the death of the Flora Poste's parents, and her relatively blasé reaction. Unaffected though she is, she finds that her parents have left no money to support her, and she simply cannot bring herself to work for a living. Instead, she decides to impose upon her cousins, the Starkadders at Cold Comfort Farm with only the aid of a favorite book, "The Higher Common Sense." This is when the fun begins. On arriving at Cold Comfort Farm, she finds a host of backward, absurd rubes with names like Urk, Elfine, and Amos. (On the farm, there are four cows named Graceless, Aimless, Feckless, and Pointless.) Presiding over the whole clan is the loony, elderly matriarch Aunt Adam Doom, who at one point repeatedly declares that she "saw something nasty in the woodshed." But none of this manages to perturb Flora, whose Englishness seems to foreordain a neat, tidy plan for everyone involved. She rescues Elfine from a freewheeling "loam and lovechild" life of writing poetry, and marries her off to a local man by the name of Richard Hawk-Monitor. She sets up Mr. Mybug, an officious hack-scholar who is working on a book supposedly demonstrating that the works of the Bronte sisters are really the product of their brother Branwell, with a girl named Rennett. Perhaps her biggest accomplishment is convincing Aunt Adam Doom to leave Cold Comfort Farm to finally leave the room she has confined herself to for twenty years to spend some time in Paris.This novel is wonderful lightness, but that should not be confused with being light: it is so wonderfully crafted, full of such deft sharpness and acerbic wit that it is difficult to write off as simply a parlor game satire. The narrative voice is memorably tart and sardonic, but not overweening. Whenever you think that Flora will trip up in one of her plans, you find that she is already three steps ahead of you: in fact, she already has you, the reader, figured out. The silly, unbelievable characters do prevent Flora from having a Big Problem to solve, but I always appreciated her ability to compartmentalize, rationalize, and order what she conceived to be a very disorderly universe. It struck me as a very English theme. And you'll probably walk away from the novel smirking at yourself if you've ever admitted that you admired a novel by Thomas Hardy or D. H. Lawrence.
Review by amy_marie26
16/06/2015
Cold Comfort Farm belies its title. Eminently practical and slightly bossy Flora Poste is left alone in the world with very little money after the death of her parents. Horrified by the idea of working for a living, she ignores her friend Mrs Smiling's advice to get a job and instead aims to sponge off some forgotten relatives. After receiving several replies, she finds the Starkadders of Cold Comfort Farm most suitable - she hopes to arrange things to her taste and learn a little more about these rights of hers that are mysteriously alluded to in the reply letter. Upon arriving in Essex, Flora comes upon a dreary, downtrodden family content to wallow in their own misery - but not for long. Flora sets about fixing everyone's problems with her brisk practicality. This book is meant to parody many of the rural novels in vogue at the time, like our dear Tess of the Durbervilles. One can only imagine how pleasant that book would have been with Flora's influence and guidance. Some people may find Flora too bossy and unlikeable, but I adore her. She IS bossy but with good intentions and a minimum amount of fuss. She is one of my favorite characters in literature and I only wish there were more tales of her dropping in on other gloomy novels and putting things in order. The other characters are wonderful, too - Mrs Smiling, Charles, Reuben and Seth, Elfine - but Flora is the star. This is the perfect comfort book.
Review by LARA335
16/06/2015
Mildly amusing and good-natured skit on the likes of overwrought writers in the vein of D.H. Lawrence and Thomas Hardy. Dramatic country-types are sent up when they collide with no-nonsense, head-girlish, Flora. Not quite sure though why this book is as celebrated as it is.