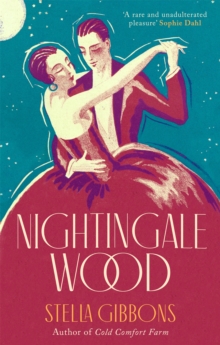 Nightingale Wood
Paperback
Description
Life is not quite a fairytale for poor Viola. Left penniless, the young widow is forced to live with her late husband's family in a joyless old house.
There's Mr Wither, a tyrannical old miser, Mrs Wither, who thinks Viola is just a common shop girl, and two unlovely sisters-in-law, one of whom is in love with the chauffeur.
Only the prospect of the charity ball can raise Viola's spirits - especially as Victor Spring, the local prince charming, will be there.
But Victor's intentions towards our Cinderella are, in short, not quite honourable . . .
Information
Format: Paperback
Pages: 400 pages
Publisher: Little, Brown Book Group
Publication Date: 01/04/2009
Category: Classic fiction (pre c 1945)
ISBN: 9781844085729
Free Home Delivery
on all orders
Pick up orders
from local bookshops
Reviews
Showing 1 - 3 of 3 reviews.
Review by FleurinherWorld
16/06/2015
Nightingale Wood is a fairytale says the cover, and yes it is.The story of Cinderella, set in the 1930s, still recognisable but twisted into something new and something just a little bit subversive.Viola is a penniless young widow. She is pretty and charming, but sadly her circumstances force her to move to the country to live with her in-laws.The Withers family is terribly middle class and stifling respectable, and though Mr and Mrs Wither do not consider Viola, a former shopgirl, to be quite of their class they know their duty. Mr Withers is most concerned about Viola's finances and his wife about her family's perception and position in local society.Their unmarried, middle-aged daughters are a little less concerned. Madge wants little more than a dog and to be part of the country set, while Tina is quite besotted by Saxon, the family chauffeur.The family and its interactions are presented with gentle wit and humour, but the sadness is just below the surface. Sadness at a lack of understanding and at a class system that keeps them all in their places and allows so much potential in the women of the household to be wasted.A few miles away live the Spring family. Mrs Spring is proud of he successful son Victor, ambitious for him, and delighted that he is virtually engaged to an eminently suitable young woman. Her bookish young niece, Hetty is less impressed.Viola's arrival, and her certainty that Victor must be her Prince Charming after she dances with him at a ball, is the spark that changes everything. Lives change, conventions are broken and opportunities are seized.Stella Gibbons tells a lovely, complex tale with all of the wit and humour you could want, and she balnces that perfectly with real understanding, real emotions, and just a light sprinkling of fairy dust.This is the third of her novels that I have read, and I really have grown to love the way her authorial voice is always present but never obtrusive, and the wonderful trick she has of seeming to be heading down a traditional, well trodden path, only to head off somewhere different and rather more interesting at the last minute. That really is clever.This time around her pace seemed a little slow, but it is was worth lingering because there are so many lovely details, dialogues and observations, and some telling points are made about the class system, the lack of opportunity for women and the difference that money makesBut what held everything together was wonderful characterisation, and I continued to be engaged no matter which of the diverse cast was taking centre stage. Such a wonderful variety of people, relationships, and things going on!I willed Tina on as she took tentative steps to deft convention and make her relationship with Saxon official. I laughed as Madge entertained the huntin', shootin', and fishin' brigade. I worried about Hetty's future. And I wondered if Victor really was Prince Charming, if he was good enough for Viola.The ending was in doubt until the very last minute, but when it arrived it was perfect and there was a little sting in the tail.The perfect ending for a fine entertainment and a lovely piece of social comedy.
Review by isabelx
16/06/2015
Civilisation as we know it is corrupt. It may be doomed; there are plenty of omens. Its foundations are rat-eaten, its towers go up unsteadily into the lowering clouds, where drone the hidden battle-planes. But it can, and does, supply its young daughters with luxuries at a price they can afford. No woman need be dowdy, or shabbily genteel. while she has a few shillings to spend on clothes, she can buy something pretty and cheerful. This may not be much, but it is something. Tomorrow we die, but at least we danced in silver shoes.A delightful tale from the late 1930s, from the author of "Cold Comfort Farm". As in that book, the story starts with a young woman going to live with relatives, but Viola is a young widow moving in with her in-laws, and she is not a domineering character like Flora Post so it is someone else who turns the household upside-down.
Review by LyzzyBee
16/06/2015
(26 Jan 2012)Another charity shop buy. An engaging and absorbing but slightly odd novel – it does satirise (religion, over-use of psychology in books when it's staring you in the face … ) as Gibbons is known for doing in her best-known work, "Cold Comfort Farm", but can also be read 'straight' as a country house / family novel. There ware some awkward references to Jewish people, but then again this is of its time, and it could of course be satirising the characters whose experiences are being described; it's hard to tell. It also plays with whom our sympathies are meant to lie – the 'heroine' of the novel is introduced in a fairly sympathetic light, newly widowed and down on her luck, forced to move in with her forbidding in-laws, but undermined, and her sisters-in-law become less monstrous and more human. And it plays with ideas of Shakespeare and romance, too, with dashing heroes fatally undermined by their flaws, romantic woods complete with hermits, etc. So, overall intriguing and entertaining.