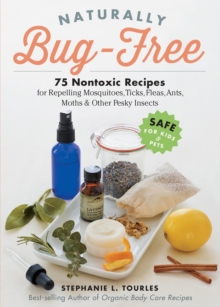 Naturally Bug-Free
Paperback / softback
Description
It's a dilemma faced by many health-conscious people: how do I keep the bugs away without putting potentially toxic substances on my skin?
Many commerically available nontoxic alternatives are dismissed as ineffective or too expensive.
In Naturally Bug-Free, herbalist Stephanie L. Tourles offers proven solutions. 80 nontoxic recipes she's developed and tested for top effectiveness.
Easy to make at home, the recipes range from insect sprays, body oils, and balms to fragrant herbal sachets that repel moths; carpet powders that repel fleas and ants; essential oil repellants to keep the pantry pest-free; and flea and tick powder, drops, and collars for pets.
A detailed ingredient dictionary explains the properties of all the herbs, essential oils, and other key ingredients.
Information
Format: Paperback / softback
Pages: 176 pages
Publisher: Storey Publishing LLC
Publication Date: 16/09/2015
ISBN: 9781612125961
Also by Stephanie L. Tourles