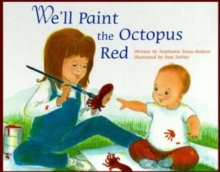 We'll Paint the Octopus Red
Hardback
Information
Format: Hardback
Pages: 25 pages, 25 colour illus
Publisher: Woodbine House Inc.,U.S.
Publication Date: 01/01/1998
Category: General
ISBN: 9781890627065
Free Home Delivery
on all orders
Pick up orders
from local bookshops
Reviews
Showing 1 - 5 of 9 reviews.
Previous | Next
Review by kaelirenee
16/06/2015
A little girl eagerly anticipates the birth of her little sister and she pictures all the things they will do together. When her sister is born with Downs Syndrome, she must realize that they won't be able to do all of those things, but there are still fun things they can do together and be loving siblings.This is a very positive book that is excellent for a child with a special need-learning to love your sibling no matter what and finding things to do with her has to be one of the hardest parts for any big sister, and this book lovingly shows how to do that. Excellent for read aloud and early readers, up through about 3rd grade.
Review by lmhudson
16/06/2015
The thing I loved most about this book was the question and answer section in the back. The questions are ones that most children would ask after reading this book and the book does a good job of explaining the answers in a way that a child can understand.
Review by gundulabaehre
16/06/2015
Emma is not too thrilled that she will soon be getting a little brother/sister; she has been an only child for almost six years and likes it that way. But when her father describes how much fun being a big sister will be, Emma slowly warms to the idea and thinks of all kinds of activities she might do with her new brother or sister. When baby Isaac is born with Down Syndrome, Emma is worried that her little brother will never be able to do any of the things she had planned to do with him. Her father explains that while Isaac might learn certain tasks more slowly than other children, with patience, kindness and encouragement, they will still be able to do all of the things they had planned to do together.I appreciate the generally positive and optimistic outlook of <u>We'll Paint the Octopus Red</u>. Instead of focusing primarily on limitations and obstacles, Stephanie Stuve-Bodeen's narrative focuses on the fact that many children with Down Syndrome can, indeed, do anything and be anything. That being said, I do wonder if the message of there being seemingly no barriers is not a bit overly optimistic. I don't know all that much about Down Syndrome, but I do know that there are variations, and while some individuals face only limited developmental and/or health issues, others face more serious, more difficult challenges. I don't think that it is entirely realistic or even fair for <u>We'll Paint the Octopus Red</u> to attempt to show that there are no (or hardly any) challenges and potential incapacities associated with Down Syndrome. I am glad that the book celebrates ability and potential instead of focusing on disability and limitations, but the possibility for these, for serious challenges does exist and should at least have been mentioned. In a worst case scenario, this omission might make it difficult for a child to accept and understand problems and challenges encountered and experienced by siblings, relatives, friends, schoolmates etc. who have Down Syndrome.I did enjoy the back-and-forth between father and daughter, how both of them ask and answer, how both of them comfort and support one another. Emma is not kept in the dark about her brother's Down Syndrome; she comforts and reassures her father as much as he comforts and reassures her. Emma's father approaches his daughter as a person with feelings and questions, questions that require answers and are answered (Emma is not approached as a child <i>too young to understand</i>, there is also no secrecy surrounding Isaac's Down Syndrome).I was surprised how much I enjoyed Pam DeVito's illustrations. I think they provide a fitting complement to the text, and I love how the illustrations clearly show a distinct family resemblance (red hair, blue eyes, even the facial expressions of Emma and her father are similar). I also think that DeVito has managed to successfully depict a baby/toddler with Down Syndrome, without having Isaac's features appear as either too exaggerated or too muted (you can tell that his face, especially his eyes are a bit different from the rest of the family, but there is nevertheless a strong family resemblance).I think that this book could be a wonderful and reassuring resource for families who have or who are expecting a baby with Down Syndrome (an important font of information for siblings, providing both comfort and answers). The informative question/answer section at the back is an added bonus, and would also make <We'll Paint the Octopus Red</i> rewarding for classroom use (perhaps in conjunction with a unit on special needs, physical challenges and the like). I could also imagine using <u>We'll Paint the Octopus Red</u> in a kindergarten or preschool classroom where one or more students have Down Syndrome; it might provide information, answer questions and make both the students with Down Syndrome and their classmates feel more at ease with each other.
Review by AbigailAdams26
16/06/2015
Having been reconciled to the imminent arrival of a new baby sibling by some long chats with her father - chats in which it is established that she and her little brother or sister will be able to do many wonderful things together - six-year-old Emma is distressed to learn that newborn Isaac has something called Down Syndrome. What does this mean? Won't she and Isaac be able to do all those things together, as her father promised? Of course they will, Dad reassures her: with a little help, and some extra patience, there's nothing that Isaac won't be able to do...One of our June selections for the <i>Picture-Book Club</i> to which I belong, <u>We'll Paint the Octopus Red</u> is an engaging picture-book introduction to the subject of Down Syndrome, one that offers young readers and listeners some gentle reassurance. I liked the positive message here, and enjoyed the back-and-forth between Emma and her Dad - his gentle reminders about good behavior, in the face of his daughter's exuberance, reminded me a bit of my own father - but I think I agree with some of my fellow reviewers, in being a little troubled by the implication that a child with Down Syndrome can "do anything." Obviously, this is not exactly true. On the other hand, it does work well within the confines of the story - Isaac <i>can</i> do all the things mentioned here - so take that as you will.All in all, a sweet little family story, one I would recommend to any young child with a friend or sibling who has Down Syndrome, or who is curious about this condition.
Review by ckelly16
16/06/2015
This book is one of my all time favorite non-fiction stories. When I was ten years old my brother John was born with Down syndrome and my parents gave my siblings and I this book to read. It gave us more understanding and information on his disability. I like this book for three reasons. The first reason is the language. Throughout the book there is a pattern of "and we'll paint the octopus red". The little girl in the book wants to be able to do many things with her new brother, who she later finds out has Downs syndrome. The way that the dad speaks to his daughter is reassuring and informative after she asks "If Isaac has this Down thing, then what can't he do?" The characters are also another aspect of the book that I truly enjoy. They are very relatable and well developed throughout the book. The young girl is reassured by her dad that her new brother will be able to do every thing that she does, but in a different way. The characters are also illustrated very well. The little boy with Down syndrome's features are incredibly accurate and are able to give children and idea of his uniqueness. The last thing I love about this book is the theme. the "big idea" is understanding what Down syndrome is and how if can affect us. The back of the book has a page of questions that young children may ask about Downs with child friendly answers. I would recommend this book to teachers and parents informing their children about Down syndrome.
Also by Stephanie Stuve-Bodeen