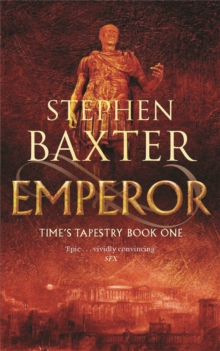 Description
A woman gives birth to her child in a village in Northern England, the cold northern edge of the Roman Empire.
As she struggles through a painful labour she begins to scream out a series of words in Latin.
A language she has never heard before, much less spoken.
One of the family recognises the words for what they are.Only later does it become clear that the women has spoken a prophecy.
A prophecy that relates to the death of the Emperor Constantine.
A prophecy that if enacted will change the fate of the Roman Empire and all of the future beyond it.Stephen Baxter's new series takes ordinary individuals living at history's tipping points and presents them with a prophecy that challenges everything they believe about their world and prompts them to take action that could change it forever.The fourth volume reveals the nature of the prophecies and reveals a battle that has been fought through the ages.
Information
Format: Paperback
Pages: 320 pages
Publisher: Orion Publishing Co
Publication Date: 08/02/2007
Category: Science fiction
ISBN: 9780575079229
Free Home Delivery
on all orders
Pick up orders
from local bookshops
Reviews
Showing 1 - 4 of 4 reviews.
Review by elmyra
16/06/2015
Baxter likes the "literature of ideas" so much, he has one of his characters defend it from the criticism of poor characterisation. Time's Tapestry is nothing if not "literature of ideas". There are two problems with it. The first is that, certainly throughout this first book, it is not immediately obvious what those ideas are. This is a narrative on a grand scale, covering about 400 years of history. We get a sense that somebody is trying to meddle with that history, but how or to what purpose remains unknown. The second problem is that on the lower level of the narrative, in each individual period covered, with each set of characters, Baxter really doesn't do a very good job of characterisation. I found it difficult to form a bond with any of the characters. I found some of their actions and thought processes not particularly credible. Overall I just wished they'd hurry up and do stuff so I could get more of an idea of the bigger picture - and that didn't really happen.Charles Stross remarked recently on one of his blogs (I forget which) that if you're writing a series of novel length works, each installment needs to have the structure of a novel, with a build-up and climax, and the overall series as a whole needs to have the structure of a novel - except the climax of the series needs to be sufficiently... well, climactic, to warrant the reader's investment of time to read all the books in the series. I can't yet comment on the entire Time's Tapestry series, but for me Emperor lacked a climax as a stand alone novel. I'm not even entirely sure it was enough of a build-up to make me want to read the rest of the series. I'll give it a go, but right now I'm seriously tempted to skip books two and three and go straight to Weaver.
Review by jonathanstrange
16/06/2015
With a subtitle like "An Alternate History Epic," Emperor might be expected to have more of a science fiction or fantasy element than one actually finds. There is at the start a brief prophecy with a phrase or two from the American Declaration of Independence along with several vague predictions. Other than that, the story is entirely historical fiction of a British family's fortunes from the initial Roman occupation to Rome's decline. Frankly, I thought the story and pacing mostly dull. There's very little action and the characters disappear once they start to get interesting. The alternate history angle of the story is so subtle that it's reappearance at the end is unremarkable. I actually felt the story might have been better as a straight historical novel contrasting Rome's initial vigor with its slow decline. Emperor was a quick read though - so I may continue with the second volume and hope for more of an "epic alternate history" and less of a straight, action-less historical fiction.
Review by nakmeister
16/06/2015
Genre: Science Fiction/Alternative HistorySetting: Roman BritainNo. of pages:Part of a series: Yes, 1st book in Time's Tapestry Quartet.Next book: ConquerorA woman going through a difficult birth starts uttering words in latin, a language she doesn't know. It is a prophecy, a prophecy that will echo down the centuries...This book is set mostly in Roman Britain, from before the Romans came to Britain to the fall of Rome. The book is made up of several different sections, each focusing on a different generation from the same family line, spanning several hundred years. It is the story of a family and their prophecy, and how that links in with the fate of Rome and Britain. The early beginnings of Christianity is also one of the themes in the book. I particularly like the part where a stone mason convinces Emperoer Hadrian to build his great wall out of stone, and not mounds of turf. Enlightened sel interest I think!The book is well written, and as well as being a good story gives an interesting insight into Roman Britain. It's supposed to be part of an alternative history series, but as far as I can tell so far it sticks fairly closely to accepted Roman history, so I learned a lot about the changing fortunes of the Roman Empire and of Britain over several centuries. If I was to level a criticism at the book, it would be that the different sections of the book, each separated by many decades at least and featuring different characters, struggle to form a strong overall narrative. Each section is good on it's own but the link is sometimes a tenuous one between each set of characters.
Review by RobertDay
16/06/2015
Again, Baxter flags up a suppressed desire to write historical fiction, though as a loyal SF writer he can't resist throwing a spanner into the works. This book would be a family saga, with three generations of the same family experiencing the visitations of three Roman emperors - Claudius, Hadrian and Constantine - to Britain. But the linking factor to each stage of this family drama is a prophecy. All well and good, the Romans were quite fond of prophecies, but this one has a twist - three quarters of the way through, it suddenly lapses into the American Declaration of Independence....The reaction of the characters to this is interesting; they seize on the bits of the prophesy with alacrity, seeking out meaning and divinations. But the lines about "life, liberty and the pursuit of happiness" nonplusses them for the most part.(This is a bit of a double-edged sword. The science fiction fans amongst the readers immediately pricked up their ears, and then read the rest of the book waiting for some hint as to the reason for this anomalous text. But to judge by some of the reviews from first-time readers, this threw them off-balance and - because it is the aim of Baxter to work this plot out over four novels - it seemed totally superfluous.)What then follows is a fairly straight historical novel, though by taking three separate chunks of Romano-British history, Baxter achieves a sense of the span of the history of Roman Britain rather than focusing on any one family story in detail. But that's not his intention; it is that span of history that he's interested in. I was particularly taken with the recurring image of certain buildings, such as the arched gateway to Camulodunum (Colchester), the fort at Rutupiae (Richborough) or the mile-forts on the Roman Wall, and how they are changed over the centuries, reflecting the vibrancy and state of Romano-British society in that segment of the book; that imagery I found most telling.At the climax of the third part, the attempted assassination of the Emperor Constantine, sf fans will recognise a potential historical change as one of the characters experiences a vision of different outcomes of the unfolding events. This is a little reminiscent of the Brian Aldiss short story, 'The Day of the Doomed King', which is essentially about an alternate history that fails to be created as events follow their historical path rather than launch down new and untrodden timelines. (Apparently, some editions of this book in some markets are subtitled 'An alternate history epic', which is a bit naughty of the publishers for setting up some readers' expectations.)At the end of the book, another prophecy is made in a manner that suggests some sort of cyclical chain of events.The book is a pretty quick read; chapters are short and the overall length is of the sort that we would have expected some thirty years ago.In short, then; if you aren't seized by the mystery of the initial premise, this book might seem to be too slight, with too much historical scene-painting and not enough family drama. If you are intrigued by the premise, though, you'll probably want to read on but will have to put up with not getting answers just yet.
Also in the Gollancz S.F. series | View all