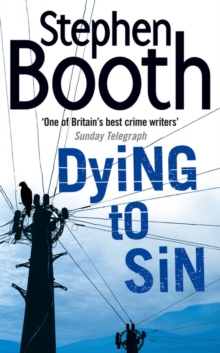 Description
Detectives Fry and Cooper return in another supremely atmospheric Peak District thriller, perfect for fans of Peter Robinson and Reginald Hill Building work at an isolated farm has unearthed more than just the usual remains... two human are discovered, seemingly buried years apart. With little forensic evidence to go on, Detectives Diane Fry and Ben Cooper have to look back into the farm's history, where they uncover decades of abuse of migrant workers.
Is the truth to be found somewhere in this piteous history? Or does the answer lie elsewhere, hidden in the ground, and still waiting to be discovered?
Information
Format: Paperback
Pages: 560 pages
Publisher: HarperCollins Publishers
Publication Date: 01/05/2008
Category: Crime & mystery
ISBN: 9780007243440
Free Home Delivery
on all orders
Pick up orders
from local bookshops
Reviews
Showing 1 - 2 of 2 reviews.
Review by edwardsgt
16/06/2015
Another dark tale from the Peak District. A body uncovered during farm renovations leads to all kinds of revelations and strains the often uneasy relationship between DS Fry and PC Cooper. Well captured dark, brooding atmosphere but I found the plot a little plodding at times and didn't automatically reach for the book at every opportunity to finish it.
Review by gpangel
16/06/2015
Dying to Sin by Stephen Booth is a May 2014 Witness Impulse publication. I was provided a copy of this book by the publisher and Edelweiss in exchange for an honest review. An old Farmhouse with the odd name of Pity Farms is the scene of a very puzzling crime. Workers digging on the foundation discovered a preserved hand . This sets off a string of other gruesome discoveries on this out of the way farm where evidently someone has been getting away with murder for a long time. With the owners of the farm either dead or suffering from dementia, Cooper and Fry have their hands full. First of all the task of identifying the dead bodies and then trying to figure out who they need to interview especially since the these corpses have been buried awhile and the farm had hired many immigrants over the years who came and went frequently. To add more pressure it is the holiday season and Diane and Ben both seem to have a case of the Bah Humbugs. Diane is feeling out of her element more than ever before while working this case. Her inability to fit into this small community has come to the attention of her superiors who have suggested to her she could be happier somewhere else. While she knows that and ask herself why she is wasting her time here when she could easily find a job working for the MET, having someone else point this out for her was painful. This eighth installment in the Cooper and Fry series is a particularly difficult one. The owners of the farm are selling it and the sole survivor in the family is in a facility suffering from Alzheimer's. By all accounts two brothers lived together on the farm for years although they did not get along at all. One brother was a religious man and the other was very superstitious. Odd ducks for sure. But, there have been some rather disturbing occurances on the farm in the past and the detective working the case back then seemed to have found his own way of handling things. This book is a procedural which takes the reader through the entire investigation from start to finish showcasing good old fashioned police work. The office politics are bubbling over in background and we glimpse the personal lives of Cooper and Fry at times as well. I loved the forensic elements the author included. These details were very interesting, for example we are told how the pathologist might judge the age of a corpse. The odd goings on at that farm also showcases a terrible problem that seems to plague small community's worse than the big cities. This case reminds us that bucolic scenery can be a deadly illusion and crimes are more easily committed and hidden in this type of environment. But the same sins inflict the country folk as do the city folk, a lesson that will most likely have long term repercussions. Sadly, Diane's future seems a little unsettled and she appears to be ready for a change in her career and perhaps in her personal life too. I felt like I could identify with Diane on many levels. I don't want to say anything that would hurt anyone's feelings , but having lived in a small town for many years, I still to this very day never found a niche for myself. Sometimes that is simply the case for those who are not born and raised in an area. Newcomers just don't get all the little inside jokes or the lingo or jargon or mindset and are never fully accepted. If someone is lucky enough to finally breakthrough they will admit it took them a great many years to do so. I hope that this case and Diane's quick thinking that helped solve the murders and unravel an ongoing crime will give her some long overdue respect and she will be able to feel like she belongs, at least a little bit. Only time will tell. Dark, atmospheric, moody, and suspenseful- I give this one 4 stars. note: This book was published previously. This is a reissue by William Morrow's Witness Impulse imprint. This book is now available in digital format.
Also in the Cooper and Fry Crime Series series | View all