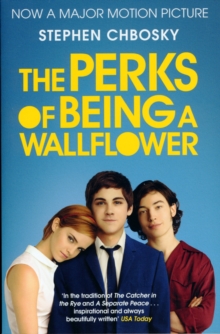 The Perks of Being a Wallflower
Paperback
Description
The Perks of Being a Wallflower is a deeply affecting coming-of-age story that will spirit you back to those wild and poignant roller-coaster days known as growing up.
Now a major motion picture starring Emma Watson and Logan Lerman.
Charlie is a freshman. And while he's not the biggest geek in the school, he is by no means popular.
Shy, introspective, intelligent beyond his years yet socially awkward, he is a wallflower, caught between trying to live his life and trying to run from it.
Charlie is attempting to navigate his way through uncharted territory: the world of first dates and mix-tapes, family dramas and new friends; the world of sex, drugs, and The Rocky Horror Picture Show, when all one requires is that perfect song on that perfect drive to feel infinite.
But Charlie can't stay on the sideline forever. Standing on the fringes of life offers a unique perspective.
But there comes a time to see what it looks like from the dance floor.
Information
Format: Paperback
Pages: 240 pages
Publisher: Simon & Schuster Ltd
Publication Date: 22/08/2012
ISBN: 9781471100482
Other Formats
Paperback from £5.95
EPUB from £5.99
Free Home Delivery
on all orders
Pick up orders
from local bookshops
Reviews
Showing 1 - 3 of 3 reviews.
Review by shelleyraec
16/06/2015
It is this years release of the movie based on The Perks of Being a Wallflower that has reignited interest in the novel of the same name. First published 13 years ago, the book unfolds in an epistolary format as Charlie writes letters to an anonymous 'friend' sharing his experience of his first year (10th grade) of high school.Charlie is a bright but sensitive, socially awkward teenager coming of age in the early 1990's. The youngest child of a family that includes a college aged football hero, a rebellious teenage girl and loving but benign parents, there are hints that Charlie's past has been difficult, contributing to his almost childlike approach to life.Shunned by his peer group, but encouraged by his English teacher, Bill, to participate in life Charlie takes a gamble when he strikes up a friendship with step brother and sister, Patrick and Sam, both in their final year of school. Endearingly naive, Charlie becomes a mascot of sorts for their group who are both amused and charmed by his quirks and who take it upon themselves to educate him. Charlie's thoughts and experiences of that time are relayed in the letters to his anonymous 'friend'.With Charlie, Chbosky explores the issues common to teens such as peer acceptance, emerging sexuality and risk taking behaviour as they discover who they are and try to find their place in their world. The Perks of Being a Wallflower can be confronting at times as all the terrors of high school are compressed into the experiences of one small group of students who deal with suicide, bullying, rape, homophobia, drug abuse and more. Charlie's naivete though provides a slightly different perspective on those universal struggles of adolescents as he tries to understand the unwritten code of appropriate social behaviour. Though he is prone to extreme emotional reactions, Charlie relates his experiences, and the experiences of his friends, with a sense of innocent detachment, accepting the mistakes, missteps and strangeness of his journey with remarkable equanimity.The Perks of Being a Wallflower is written for a mature teen audience who will be able to relate to the characters and their anxieties. This is a moving, funny and inspiring novel about growing up and moving on.
Review by JennyElizabeth
16/06/2015
This beautiful epistolary novel highlights the confusion, beauty and sadness of life as a teenager, as a friend, as a family in 1990s America. <br/><br/>I honestly louded out loud at so many of Charlie's stories, at his great experiences and expressions, and I cried with him and knew so many of the people he knew, and remembered so many of his memories. <br/><br/>I do think this book affected me so deeply because I grew up in the same era and had many of the same experiences and friends, but also because it is a moving story, full of humanity and empathy. Full of the quietness and shyness of starting high school. Full of the truths that great people sometimes do shitty things and you get mad, but then, you get over it. <br/><br/>I also loved the interaction Charlie had with the receiver of the letters. He knows him/her. It is not an anonymous, but a semi-anonymous relationship. <br/><br/>I will say that I haven't felt this much reading a novel in a long time. Well done Chbosky!
Review by krau0098
16/06/2015
I have had this book on my to be read pile forever. This ended up being a quick and fun read. This is one of those quirky young adult contemporary fiction coming of age stories. I think it would appeal to fans of John Green or David Levithan.Charlie is starting the year as a Freshman. This book is a series of letters to a mysterious someone about his thoughts and life during that year. Charlie is a smart kid, he's not a geek and he can be tough when the situation warrants it. However, he doesn't have a ton of friends either and is always kind of on the outskirts. This is a book about his navigating a tough time in life...that of the high school freshman.Parts of this book are laugh out loud funny, while other are heart warming or touching. The book reminds a lot of other contemporary young adult coming of age stories out there, think Paper Towns by John Green.Charlie is a complex and interesting character. He is super smart but also has some mental and emotional issues he's struggling with. Watching him deal with his family and friends at high school was very entertaining.There are some things that are a bit ambiguous throughout. We never find out exactly what type of mental issues Charlie has; just that he's been in and out of therapy and occasional hospitalization. The ending is pretty open as well; this is just a look into Charlie's life.There is some more mature content in here, including some drug use, language and discussion of sex (including date rape and girls forced to commit unwilling sex acts while under the influence). I will say it's a lot more mature content then I dealt with in high school, but I may have been somewhat sheltered. I could understand why people might find it offensive, but it's all a valid part of the story.Overall I enjoyed the book. It's a fun read and a good look at a kid struggling with growing up and fitting in in high school. It's one of those book I will probably keep around for my son to read when he hits that age. I enjoyed the book and thought it was an interesting lesson in growing up and accepting who you are.