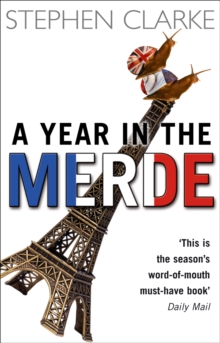 A Year in the Merde
Paperback
Description
Paul West, a young Englishman, arrives in Paris to start a new job - and finds out what the French are really like They do eat a lot of cheese, some of which smells like pigs' droppings.
They don't wash their armpits with garlic soap. Going on strike really is the second national participation sport after petanque. And, yes, they do use suppositories In his first novel, Stephen Clarke gives a laugh-out-loud account of the pleasures and perils of being a Brit in France.
Less quaint than A Year in Provence, less chocolatey than Chocolat, A Year in the Merde will tell you how to get served by the grumpiest Parisian waiter; how to make perfect vinaigrette every time; how to make amour - not war; and how not to buy a house in the French countryside
Information
Format: Paperback
Pages: 384 pages
Publisher: Transworld Publishers Ltd
Publication Date: 01/04/2005
ISBN: 9780552772969
Other Formats
EPUB from £4.99
CD-Audio from £13.25
Free Home Delivery
on all orders
Pick up orders
from local bookshops
Reviews
Showing 1 - 4 of 4 reviews.
Review by callumg
16/06/2015
The best travel book that I read in a long time.
Review by Deesirings
16/06/2015
This is a story about a British guy, Paul West, who goes to work in France for a year. He describes his time in France, from the perspective not of a short-term visitor but as someone who works and lives there.This was a really fun read for me, a bilingual French-Canadian who works in a place where Canadian descendants of both the British and the French converge and must work together. Canada may not exactly replicate either British or French culture, but there are similarities. For much of this novel, though, I kept forgetting it was a novel and kept reading it as though it were a memoir. I don't think it made much of a difference in level of enjoyment. But it does perhaps speak to a moderate lack of plot, especially for the first half or more of the book. It was amusing nonetheless.
Review by shawjonathan
16/06/2015
My travelling companion read three of Stephen Clarke's Merde books in quick succession between Paris Gare de Lyon and La Grande Motte on the Mediterranean. Not only did she laugh frequently, but she would read bits out prefaced with phrases such as, 'Ah, this is what was going on the other day.'We were in France at the start of September and the phrase la rentrée was everywhere. We'd gathered that it signified the equivalent of our Back to School, with added intensity gained from the fact that an awful lot of enterprises shut down for summer holidays and open again at rentrée. But this book explained it from the point of view of someone working in Paris, and certainly enriched our grasp of its meaning – a time for resolutions and new beginnings, etc.Then there was the mysterious siren we heard exactly at midday in a small village during our walk on the Loire. Completely mystifying until – in [Merde actually] – we learned that at midday on a certain day every month all the airraid sirens of France have a practice run and are completely ignored by everyone except ignorant tourists. (We can vouch for the ignoring bit.)I was confirmed in my impression that one asks for un carafe d'eau rather than simply de l'eau at a cafe unless one wants to pay for mineral water.Apart from these useful snippets of information, and interesting bits of language artfully disguised as comedy, the book is a well-executed romp. I don't plan to read the others, but if you're travelling to France you could do a lot worse by way of preparatory or companionable reading.
Review by Miguelnunonave
16/06/2015
Quite funny insight into the French psyche and habits from a British male perspective. Crude, light and entertaining - not much more. The subject tends to wear off towards the end of the book... It gets tiresome. Not sure if I'm tempted to read any of the sequels.