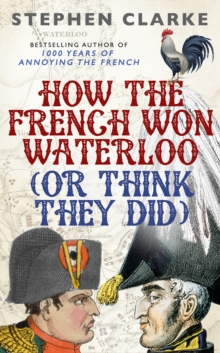 How the French Won Waterloo - or Think They Did
Hardback
Description
Published in the 200th Anniversary year of the Battle of Waterloo a witty look at how the French still think they won, by Stephen Clarke, author of 1000 Years of Annoying the French and A Year in the Merde.
Two centuries after the Battle of Waterloo, the French are still in denial.
If Napoleon lost on 18 June 1815 (and that's a big 'if'), then whoever rules the universe got it wrong.
As soon as the cannons stopped firing, French historians began re-writing history.
The Duke of Wellington was beaten, they say, and then the Prussians jumped into the boxing ring, breaking all the rules of battle.
In essence, the French cannot bear the idea that Napoleon, their greatest-ever national hero, was in any way a loser.
Especially not against the traditional enemy - les Anglais.
Stephen Clarke has studied the French version of Waterloo, as told by battle veterans, novelists, historians - right up to today's politicians, and he has uncovered a story of pain, patriotism and sheer perversion...
Information
Format: Hardback
Pages: 304 pages
Publisher: Cornerstone
Publication Date: 04/06/2015
Category: European history
ISBN: 9781780893082
Other Formats
Paperback from £7.65
EPUB from £4.99
Free Home Delivery
on all orders
Pick up orders
from local bookshops
Reviews
Showing 1 - 1 of 1 reviews.
Review by atticusfinch1048
27/08/2015
How The French Won Waterloo (Or Think They Did) – Funny and Factual.With the 200th anniversary of the Battle of Waterloo now a memory to most and to the British a win under Wellington's guidance which finally put the French and the puny Corsican back in his place, we British know we were the victors! Just do not let the French hear you say that as they believe they won and yes we lost, there is a collective amnesia in France for the last 200 years.As Stephen Clarke shows throughout this delightfully funny but factual book the French do not like to see their ultimate hero cast as a failure at Waterloo. Even Napoleon wrote after the battle that he won and that the English cheated, as he sat in exile on an obscure British territory in the middle of the Atlantic Ocean. It is 200 years since Napoleon set off for Saint Helena, and as Clarke explains his stature has never stopped growing in France, Victor Hugo said of him a case of 'losing the field but keeping control of history.'This book is a wonderful examination of that keeping control of history and the collective denial of the French who were there that they lost of the battlefield. The French political, education, military systems are deeply based on the Napoleonic codes even today, when he lost at Waterloo even the Arc de Triomphe had not been completed but the boulevards had! Even today the French President life in Napoleon's Palace, sits in his chairs and eats from his table.French patriotism does not allow them to admit that they lost at Waterloo from Victor Hugo to the recent French Prime Minister Dominique de Villepin all state that it was the French that won the moral victory. Villepin stated 'This defeat shines with the aura of victory' and Hugo in Les Miserable wrote 'What was Waterloo? A victory? No, a lottery, won by Europe and paid for by France.' Proof that denial can last more than a life time but for 200 years and will continue.At the same time as this tongue in cheek look at Waterloo there are plenty of historical facts packed in amongst the pages some of which you cannot help but admire Napoleon's work as a leader and commander. Such as he was able to raise an army of force between March and June 1815 of 413,000 men to guard against invaders and these were mobilised and ready to act. Again one cannot disagree with the fact that on all sides at Waterloo it took super human courage and stoicism (or plain stupidity) to fight a battle in which the main tactic of both sides was to stand up in non-camouflaged uniforms and let the enemy fire at you, or charging armour without anything that was bullet proof right in to the mouth of canon that was firing right at you.One interesting aside about Waterloo and the weather, it was raining in June 1815, and this came as a surprise to the French blaming God for being against them with the weather. But if they had done their research they would have found that June has the fourth highest amount of rainfall in Belgium so turning those fields in Flanders in to a quagmire and rivers of mud. It cannot be said we learnt the lesson of history of Flanders, rain and mud 100 years later. In fact Napoleons canons attempted to pound the British lines but most of his cannonballs settled in the mud and did nothing.Out of the 80,000 books that have examined every inch of the battle at Waterloo, How The French Won Waterloo is probably the most interesting and funny making the subject seem almost fun but not hiding the harsh realities of war. Sometimes a student needs to remember facts but as a history graduate I tend to remember the funnier stories as it always sparks my memory towards the actual facts. This book is fun, well written and a very welcome addition to the Waterloo canon and I am sure there are plenty of people who will smile all the way throughout the book.