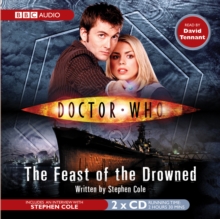 "Doctor Who", the Feast of the Drowned
CD-Audio
Description
When a naval cruiser sinks in mysterious circumstances in the North Sea, all aboard are lost.
Rose is saddened to learn that the brother of her friend, Keisha, was among the dead.
But then he appears to them as a ghostly apparition, begging to be saved from the coming feast...the feast of the drowned.
As the dead crew haunt loved ones all over London, the Doctor and Rose are drawn into a chilling mystery.
What sank the ship, and why? When the cruiser's wreckage was towed up the Thames, what sinister force came with it?
The river's dark waters are hiding an even darker secret, as preparations for the feast near their conclusion...Read by the Tenth Doctor himself, this exciting adventure features the Doctor and Rose, as played by David Tennant and Billie Piper in the acclaimed hit series from BBC Television.
Also included is an exclusive bonus interview with the author, Stephen Cole, compiled by David Darlington of Doctor Who Magazine. 2 CDs. 2 hrs 30 mins.
Information
Format: CD-Audio
Publisher: BBC Audio, A Division Of Random House
Publication Date: 03/07/2006
Category: Science fiction
ISBN: 9781846070624
Free Home Delivery
on all orders
Pick up orders
from local bookshops
Reviews
Showing 1 - 4 of 4 reviews.
Review by bluesalamanders
16/06/2015
Very creepy. Inspired in parts by the second Pirates of the Carribbean movie, it seems. David Tennant is a fantastic reader.
Review by -Eva-
16/06/2015
A naval cruiser sinks and the dead starts to haunt their loved ones and when one of Rose's friends appears as a watery ghost, the doctor must, as always, come to everyone's rescue. This is unfortunately not one of my favorites in the series. The villains are chilling in all the right ways and I could very much picture them being part of the show, but the secondary characters are a little cardboard-y. The main issue, however, is that the story arc is all over the place - I think Russell T. Davies (a genius when it comes to pacing) would have caught this, so I'm thinking that it's due to whoever abridged the audio-version. Tennant is a fantastic reader and renders each character perfectly, but I would still recommend going for a paper copy for this particular <i>Doctor Who</i>-book.
Review by susiesharp
27/08/2015
This was a good story but couldn't help thinking of The Water of Mars. My favorite line in perfect Ten voice,' Now that Mickey the untrained civilian has a hand grenade oh yes everything is going to be fine." I could just picture the doctor saying it and the look on Mickey's face as he did!I love that David Tennant reads the narrative in his Scottish accent and the Doctor bits as the voice Whovians know so well and his voicing of Mickey is fantastic!Of course makes me want to go back and watch David's episodes again and again.4 Stars
Review by Stewartry
09/10/2015
I'm very tempted to just out and out give this five stars. It's David Tennant. As the Doctor. AND in full brogue. In other words, a little slice of heaven. He does voices quite well (though perhaps not so much Rose and Mickey, but … who cares?), does the creepy bits very creepily, and is all in all a joy to listen to. Unsurprisingly.<br><br>And it was a fun story, too, about something (*cough*aliens*cough*) snatching up the drowning and doing unspeakable things to them (and the "Feast" of the title isn't a fun let's-have-another-turkey-leg sort of thing, either). The writing did a nice job of achieving Whovianness – always a concern with fan-fiction at any level up to and including authorized published tie-ins. Though … both eyebrows went up, way up, when Cole referred to "the Doctor's sneakers". Uh. He used the correct "trainers" another time, though, so I'll give him that. There was a great deal of running, and reference to the fact that running is very common with the Doctor, and that's all to the good. <br><br>But, in the end, even DT wasn't enough to make this a five-star listen. He was; the story was not. <br><br>But – brogue. There is something about the way a Scottish man says "book" that … Ahem. Yes. Very nice.