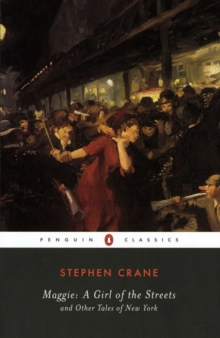 Maggie : A Girl of the Streets and Other Tales of New York
Paperback
Description
This unflinching portrayal of the squalor and brutality of New York life produced a scandal when it was published in 1893.
Crane's novel tells the story of Maggie Johnson, a young woman who, seduced by her brother's friend and then disowned by her family, turns to prostitution.
More than the tale of a young woman's tragic fall, this is a powerful exploration of the destructive forces underlying urban society and human nature.
Also included here is 'George's Mother', along with eleven other tales and sketches of New York written between 1892 and 1896.
Information
Format: Paperback
Pages: 272 pages
Publisher: Penguin Books Ltd
Publication Date: 01/08/2000
Category: Classic fiction (pre c 1945)
ISBN: 9780140437973
Free Home Delivery
on all orders
Pick up orders
from local bookshops
Reviews
Showing 1 - 1 of 1 reviews.
Review by RussellBittner
16/06/2015
I must confess, I come to this review with a heavy heart. I've wanted to read <I><B>Maggie: A Girl of the Streets</B></I> for years — and have had this edition on my bookshelves for as long. Moreover, once I finally read a bit about Crane's background and early death (at the age of 29), I wanted to read — and appreciate — it even more.<br/><br/>Perhaps I err. Perhaps I just don't get it. Perhaps Crane's naturalism is simply over my head—even if Emile Zola's never was. If so, I apologize — and you can disregard this review.<br/><br/>I read <I><B>Maggie: A Girl of the Streets.</B></I> I read "The Monster"…"The Blue Hotel"…"The Bride Comes to Yellow Sky"…"The Open Boat." And I just don't get all of the applause.<br/><br/>For starters, I found Crane's transcription of his characters' Irish Brogue (if that's what it was) in Maggie virtually unreadable — at the very least, annoying. In this, I'll take my cue from Erskine Caldwell who insisted that the rhythm of a given character's speech should be sufficient to convey to the reader a sense of 'foreignness' — rather than resorting to a perversion of every last syllable, to dropping consonants, and to repeating senseless phrases. In any case, I feel that less is more — and Crane had too much of 'more' and too little of 'less.'<br/><br/>Add to that, Crane's odd ear for adverbs. As Twain once famously said (in order to dissuade the use of them entirely), "The road to hell is paved with adverbs." I give you three — all from "The Blue Hotel" — from among the dozens I found in this collection of short stories and novellas (the italics are mine for emphasis):<br/><br/>(from p. 138) "The cowboy, Scully and the Easterner burst into a cheer that was like a chorus of triumphant soldiery, but before its conclusion the Swede had scuffled <I>agilely</I> to his feet and come in berserk abandon at his foe."<br/><br/>(from p. 145) "The Swede had grasped the gambler <I>frenziedly</I> at the throat, and was dragging him from his chair."<br/><br/>(from p. 147) "'Johnnie,' said the cowboy blankly. There was a moment of silence, and then he said <I>robustly:</I> "Why, no. The game was only for fun."<br/><br/>If I'm being too captious in citing these examples, I beg your forgiveness — and ask that you read the stories yourself, then pass judgment on me rather than on Crane.<br/><br/>In any case, I will certainly read <I><B>The Red Badge of Courage</B></I> before I form any definitive opinion of this author's writing. That's the very least I can render to a man of Crane's reputation.<br/><br/>RRB<br/>07/30/13<br/>Brooklyn, NY<br/>