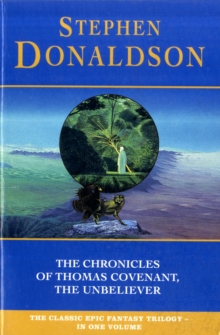 The Chronicles of Thomas Covenant, the Unbeliever
Paperback
Description
The acclaimed fantasy epic, together in one volume.
Information
Format: Paperback
Pages: 1168 pages
Publisher: HarperCollins Publishers
Publication Date: 26/07/1993
Category: Fantasy
ISBN: 9780006473299
Free Home Delivery
on all orders
Pick up orders
from local bookshops
Reviews
Showing 1 - 5 of 8 reviews.
Previous | Next
Review by AFlickering
16/06/2015
After a car knocks him unconscious, leper outcast unclean anti-hero Thomas Covenant finds himself transported to The Land, an imaginative world with such tangible beauty and life that one can't help but care about it as passionately as the characters themselves. Covenant's nerve-ends awaken; his leprosy is fading. In stark contrast to his years as an outcast in his home-town, he is now hailed as a reincarnation of the legendary Berek Halfhand, a saviour of the land. But is it illusion or reality? Should Covenant attempt to save The Land from the deadly Despiser as its legends prophesise, or retain his detached leper mentality to survive should it prove to be the former? This is a tale of sanity, survival and discipline, of struggle and purpose, of love, of redemption, of conquering despair and despite, where the external and internal run parallel with the line between them frequently blurred, and fundamental ethical questions are forced like hot knives into the mind of reader and character alike. "The Chronicles..." are as savage as they are beautiful, with a controversial rape scene forcing many to stop reading after only a few chapters, but ultimately this is a wonderfully liberating, entrancing tale - the best epic fantasy has ever produced, and probably ever will produce. 5 stars.
Review by jwhenderson
16/06/2015
I haven't read much fantasy literature but I'm glad I read this trilogy. The entire Chronicles by Donaldson is one of my all-time favorites. The main character is almost an anti-hero and the story, while it slows briefly, never let me down. Other than Tolkien, Donaldson is the best writer I've come across in (my limited reading of) the genre.
Review by alexleonard
16/06/2015
I really enjoyed this when I was younger. I'm not really reading fantasy stuff any more, but when I read this I thought it was excellent, something as grand and epic as Lord of the Rings, but darker!
Review by adb42
16/06/2015
An incredibly dark and despairing novel, based on a Tolkien-like scenario, but no hope for Thomas Covenant. Depressing.
Review by Jasignature
16/06/2015
Ah yes. Stephen Donaldson may be tedious in his writings, as if checking every paragraph for a scratch or cut and he may be a bit more darker when dealing with a Character whose only hope was to live with what he had - leprosy. Never have I found a fictional story that brought a sense of 'life-force' from the 'land' with much vivid detail that even a person with Leprosy couldn't help but feel 'alive' when reading these books. Clever covers too.
Also in the The Chronicles of Thomas Covenant series