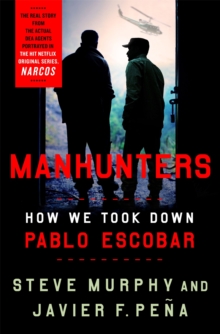 Manhunters : How We Took Down Pablo Escobar
Paperback / softback
Description
The explosive memoir of legendary DEA agents and the subject of the hit Netflix series Narcos, Steve Murphy and Javier F.
Pena For the first time, legendary DEA operatives Steve Murphy and Javier F.
Pena tell the true story of how they took down Pablo Escobar.
Colombian drug lord Pablo Escobar's brutal Medellin Cartel was responsible for trafficking tonnes of cocaines to North America and Europe in the 1980s and '90s.
Colombia became a war zone as his sicarios mercilessly murdered thousands of people - competitors, police and civilians - to ensure he remained Colombia's reigning kingpin.
With billions in personal income, Escobar bought off politicians and lawmen and became a hero to poorer communities by building houses and sports centres.
He was untouchable. But when Escobar became one of America's most wanted, agents Steve Murphy and Javier F Pena were tasked with ending his reign of terror.
For eighteen months, Steve and Javier lived and worked beside Colombian authorities, finding themselves in the crosshairs of sicarios who were targeting them for the $300,000 bounty Escobar placed on their heads.
Undeterred, they risked the dangers, relentlessly and ruthlessly separating the drug lord from his resources and allies, tearing apart his empire, and sending him underground and on the run from enemies on both sides of the law.
From their rigorous physical training and early assignments in Miami and Austin, to the Colombian mission that would make their names, Manhuntersis the jaw-dropping true story of how the world's most infamous narcoterrorist was finally put out of business. *"Riveting. A must-read for anyone interested in one of the major campaigns on the war on drugs." Publishers Weekly"A thriller-esque account...keep[s] the pages turning." Kirkus Reviews"A gripping insider account of the hunt for Pablo Escobar.
Brilliant, bold, and no holds barred, this is an impeccable true crime story, told by the two brave men who risked everything to bring down the world's first narco-terrorist.
A five-star read!" Brad Thor, #1 New York Times bestselling author of 'Spymaster'"Manhunters is a riveting account of two brave DEA Agents who put their lives, along with their families lives, on the line to fight the war on drugs in the US and Colombia.
A must read on the take down of Pablo Escobar and the part they played in the investigation." Joe Pistone, a.k.a.
Donnie Brasco"A fast-paced tale by two agents for the DEA who had the inside track on bringing down the most wanted man in recent U.S history." Bruce Porter, New York Times bestselling author of 'Blow' and 'Snatched'"Manhunters is a gripping story about two true patriots who were the difference makers in the final hunt for Pablo Escobar.
They are heroes to a world that was otherwise held captive by the evil of the planet's first narco-terrorist.
Their bravery is unparalleled, and we owe them a great deal of gratitude for their selfless sacrifices.
It is an honor to know them and their story." ?Robert Mazur, New York Times bestselling author of The Infiltrator"Steve and Javier's experience on the front lines of the war on drugs over the last thirty years made them an invaluable source of information for us.
Their contacts, both foreign and domestic, allowed us to put together a narrative of one of the most complex, poorly reported, and misunderstood chapters in our recent past." Eric Newman, Executive Producer, 'Narcos'"Steve Murphy and Javier Pena recount their involvement in the pursuit and ultimate victory over a savvy and ruthless killer who declared an uncivil war against his own country.
Never failing to credit Colombian heroism in this gripping struggle, Murphy and Pena offer fresh details of the chase for Pablo Escobar that resulted in his defeat and reclamation of the country from the deadly forces of narco-terrorism.
A must-read for any fan of Narcos!" Chris Brancato, Executive Producer, 'Narcos'"Steve Murphy and Javier Pena are the real deal; true heroes of the drug war.
Manhunters outlines the most important operation in the history of DEA; the killing of the most brutal and notorious drug lord in the world, Pablo Escobar.
They give an incredible account of that day in Medellin, Colombia, when Pablo was killed by Colombian police that were supported, advised, and trained by these two American warriors who were on the scene when it all happened.
This book is a great read and a critical account of DEA's finest hour." LTG (Ret.) William G.
Boykin, Former Commander of U.S. Army Special Forces and Founding Member of Delta Force"Manhunters grabs you from the first page and gives you a front-row seat into the harrowing inter-agency and international hunt for the brutal narcotrafficker Pablo Escobar.
Two unlikely heroes recount their stories in a way that is both compelling and captivating." Congresswoman Mary Bono"A compelling read about the adventures of two true American law enforcement heroes who ultimately took on the world's first narco-terrorist, the world's most wanted criminal, the world's largest cocaine baron, Pablo Escobar, and won!
They include accounts of other investigations, personal challenges, and the sacrifices made not only by them but their families as well." Barbara Comstock, former VA congresswoman
Information
Format: Paperback / softback
Pages: 352 pages
Publisher: Headline Publishing Group
Publication Date: 05/05/2020
Category: True crime
ISBN: 9781472268358
Other Formats
Hardback from £16.05
EPUB from £4.99
Also by Stephen E. Murphy