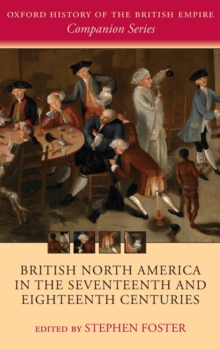 British North America in the Seventeenth and Eighteenth Centuries
Hardback
Description
Until relatively recently, the connection between British imperial history and the history of early America was taken for granted.
In recent times, however, early American historiography has begun to suffer from a loss of coherent definition as competing manifestos demand this or that reordering of the subject in order to combine time periods and geographical areas in ways that would have previously seemed anomalous.
It has become common place to announce that thehistory of America is best accounted for in America itself in a three-way melee between "settlers", the indigenous populations, and the forcibly transported African slaves and their creole descendants. The contributions to British North America in the Seventeenth and Eighteenth Centuries acknowledge the value of the historiographic work done under this new dispensation in the last two decades and incorporate its insights.
However, the volume advocates a pluralistic approach to the subject generally and attempts to demonstrate that the metropolitan power was of more than secondary importance to America in the seventeenth and eighteenth centuries.
The central theme of this volume isthe question: to what extent did it make a difference to those living in the colonies that made up British North America in the seventeenth and eighteenth centuries that they were part of an empire and that the empire in question was British?
The contributors, some of the leading scholars in their respectivefields, strive to answer this question in various social, political, religious, and historical contexts.
Information
Format: Hardback
Pages: 384 pages
Publisher: Oxford University Press
Publication Date: 03/12/2013
Category: British & Irish history
ISBN: 9780199206124
Also in the Oxford History of the British Empire Companion Series series | View all