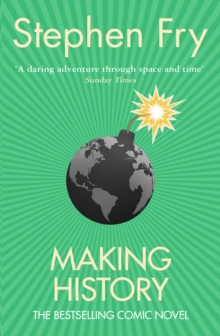 Description
Michael Young is a brilliant young history student whose life is changed when he meets Leo Zuckerman, an ageing physicist with a theory that can change worlds.
Together they realise that they have the power to alter history and eradicate a great evil.
But tinkering with timelines is more dangerous than they can imagine and nothing - past, present or future - will ever be the same again.
Making History is funny, moving, romantic and told with Stephen Fry's characteristic skill and brilliance.
Information
Format: Paperback
Pages: 592 pages
Publisher: Cornerstone
Publication Date: 20/07/2004
ISBN: 9780099457060
Free Home Delivery
on all orders
Pick up orders
from local bookshops
Reviews
Showing 1 - 5 of 6 reviews.
Previous | Next
Review by Eruntane
16/06/2015
This was not the kind of book I expected Stephen Fry to write - somehow I never saw anything so close to sci fi as his style - but it was as brilliantly executed as you would expect from him. Very readable, and I loved his way of using screenplay style to capture the more cinematic passages. (If I'd thought of it first I'd do it myself, but I suppose now it would be copying.) The only thing I would say against the novel is that you wonder about Michael's motives - the suspicion crept into my mind that he really only makes so much effort to put things right so that he can get laid legally. The fact that in alternate reality the Jewish people have been completely wiped out of Europe, and that racial segregation in the US hasn't progressed beyond the 1930s gets very little "screen time" by comparison. But I suppose it's only fair for writers to get to air their own particular hang-ups in their own work.
Review by skullstuffing
16/06/2015
Science fiction and World War II? Only Stephen Fry and his brand of absurd wit can get away with it.
Review by pauliharman
16/06/2015
A highly readable, entertaining alternate history novel. What if Hitler was never born? That's the question that Fry asks in this novel. A standard trope of time travel - be careful what you wish for; this novel paints a picture of a future world which is, in many ways, much worse than ours. The ending is highly satisfying.
Review by StuartAston
16/06/2015
Student Michael Young has finished his thesis and is sure it will make his name. However his mentor thinks otherwise and so leads Michael to run into Professor Zuckerman - who for some reason shows great interest in his thesis but for different reasons.What would happen if you travelled in time and changed history - what effect outside from what you wanted to happen would occur? Would what you expected to wake up to be there? And is the alternative any different?One change in history causes the whole of Michaels life to change and then to find out the truth about himself and the fact that in the long run history is just that and should not be touched.A comedy with a meaning behind it - and a book that I would recommend to anyone to read.
Review by bunwat
16/06/2015
Hmmm well this was clever, and I love Stephen Fry's authorial voice, but somehow it ended up making me sad. Then again I wasn't in the best mood to start with so it may be I would have been more amused if I'd been in a better mood to begin with. <br/><br/>MINOR SPOILERS - Nothing you wouldn't get from reading the blurb. <br/><br/>I liked the premise quite a lot, that preventing the birth of Hitler might not produce a better world after all. Because yeah, Hitler was an evil man but he didn't invent and prosecute WWII all by himself. <br/><br/>But somehow the working out of the premise was a little bit flawed. There was a lot of time spent on the lead up to preventing the birth of Hitler. But once the protagonist finds himself in this new world where Hitler was never born, he just looks up some stuff in the library and says oh I don't like this, and races to get home again. <br/><br/>Which all falls together pretty fast - given that he's stranded in a strange world he sure figures out how to turn it around without much difficulty. It felt a bit uneven. Still, I liked it enough I'll probably read something else by Fry at some point.