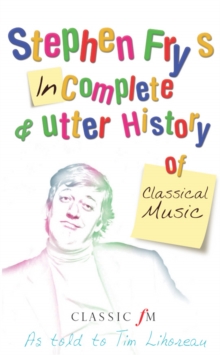 Stephen Fry's Imcomplete & Utter History of Classical Music
Paperback
Description
'Hello, I'm Stephen Fry. Now time for the first outing of a brand, spanking new feature here on "The Incomplete and Utter History of Classical Music"...putting some unsuspecting figure in music under the spotlight.' In his "Incomplete & Utter History of Classical Music", Stephen Fry presents a potted and brilliantly rambling 700-year history of classical music and the world as we know it.
Along this musical journey he casually throws in references to pretty much whatever takes his fancy, from the Mongol invasion of Russia and Mr Khan (Genghis to his friends), the founding of the MCC, the Black Death (which once again became the new black in England), to the heady revolutionary atmosphere of Mozart's Don Giovanni and the deep doo-doo that Louis XVI got into (or 'du-du' as the French would say).
It's all here - Ambrose and early English plainsong, Bach, Mozart (beloved of mobile phones everywhere), Beethoven, Debussy, Wagner (the old romantic), right up to the present day.
Entertaining and brilliantly written, this is a pretty reckless romp of a history through classical music and much much more.
Information
Format: Paperback
Pages: 320 pages
Publisher: Pan Macmillan
Publication Date: 02/09/2005
Category: Western "classical" music
ISBN: 9780330438568
Free Home Delivery
on all orders
Pick up orders
from local bookshops
Reviews
Showing 1 - 4 of 4 reviews.
Review by heidijane
16/06/2015
This book attempts to be a basic and humourous history of western Classical music from the year dot to practically the present day. It is based on a radio series that Steven Fry did for Classic FM a little while ago.As I've said above, this is an attempt, and I don't think the book really achieves what it sets out to do. Yes its mildly funny in places, but the same tired jokes crop up over and over and over again. It is written very much in Steven Fry's style, but I guess the radio series might have been more entertaining as you could hear his voice as well.Although the book doesn't claim to be comprehensive, it ends up being such a whistle-stop tour that every time you think it is going to get interesting, it veers off into the next decade (or something). Hardly anything is covered in any great depth (with the possible exception of his two favourite composers, Mozart and Wagner) so it didn't leave me feeling any wiser than I was before.I think I may have read some of Steven Fry's fiction books, but this doesn't come anywhere near something that I might choose to recommend. Really awful.
Review by the.ken.petersen
16/06/2015
I can imagine that, as occasional snippets upon the radio, these jolly japes were most amusing: as a book, however, the humour is too overpowering. Either write a comedy book, or a chronological history of music: I would have thoroughly enjoyed either but found trying to pick one from the other tedious. Stephen Fry comes across as a bit of a clever dick and the overall package is disappointing.
Review by Reg.Shoe
16/06/2015
As a reader with a limited knowledge of Classical Composers and Music I found this both entertaining and informative. It gives a broad overview of the development of music from the begining to the near present, including short biographies of some great composers. A worthwhile read.
Review by cheefbadger
16/06/2015
As a brief history of classical music this book is okay, it does give you a bit of information without being too heavy and it is a relatively easy read. The big problem, and I love Stephen Fry so this hurts, is that the 'humour' is terrible. It is painful and embarrassing to the point of not wanting to read it. So poor and such a shame. If you wish to have an introduction to classical music then by all means go ahead and read this, but don't expect to be amused by the puerile comedic efforts.