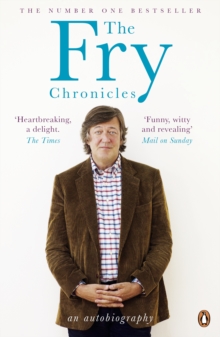 The Fry Chronicles
Paperback
Description
Spanning 1979-1987, The Fry Chronicles charts Stephen Fry's arrival at Cambridge up to his thirtieth birthday. 'Heartbreaking, a delight, a lovely, comfy book' The Times 'Perfect prose and excruciating honesty.
A grand reminiscence of college and theatre and comedyland in the 1980s, with tone-perfect anecdotes and genuine readerly excitement.
What Fry does, essentially, is tell us who he really is.
Above all else, a thoughtful book. And namedroppy too, and funny, and marbled with melancholy' Observer 'Arguably the greatest living Englishman' Independent on Sunday 'Extremely enjoyable' Sunday Times 'Fry's linguistic facility remains one of the Wildean wonders of the new media age.
The patron saint of British intelligence' Daily TelegraphWelcome to Stephen Fry's The Fry Chronicles, one of the boldest, bravest, most revealing and heartfelt accounts of a man's formative years that you will ever have the exquisite pleasure of reading.Stephen Fry's film, stage, radio and television credits are so numerous and wide-ranging that there is not space here to do them justice.
It is enough to say that he has written, produced, directed, acted in or presented productions as varied as Wilde, the TV series Blackadder and Jeeves and Wooster, the sketch show A Bit of Fry & Laurie, the panel game QI, the radio series Fry's English Delight and documentaries on subjects as varied as manic depression, disappearing animals and the United States of America.
He's also the bestselling author of four novels - The Stars' Tennis Balls, Making History, The Hippopotamus and The Liar - as well as a volume of autobiography, Moab is My Washpot, and sundry works of non-fiction.
Information
Format: Paperback
Pages: 464 pages
Publisher: Penguin Books Ltd
Publication Date: 29/01/2011
Category: Individual actors & performers
ISBN: 9780141039800
Other Formats
eAudiobook MP3 from £9.60
CD-Audio from £16.25
EPUB from £4.99
Free Home Delivery
on all orders
Pick up orders
from local bookshops
Reviews
Showing 1 - 5 of 6 reviews.
Previous | Next
Review by helenleech
16/06/2015
This autobiography, which covers his young adult years, made me wonder what's truer: our view of Stephen Fry or his own? I think he's intelligent, articulate, accomplished, and charming. He thinks he has wasted his talents, and claims to be deceitful and pretentious and obsessed with fame. Over the course of the book you come to believe that he believes this: his self-loathing comes through loud and clear. I think that he is self-deluding: but there again, maybe I am too. What's objectively clear is that he is hard-working, enormously articulate, has a phenomenal memory and tells a good story. It's nice to think that we can still produce national treasures in the Peter Ustinov mould.
Review by scubasue59
16/06/2015
A great use of words- no surprise there then! Funny and honest (I think!), displaying a certain vulnerablilty.
Review by LARA335
16/06/2015
Thoroughly enjoyed this. Wonderfully written, actually liked the name-dropping, and very pleased that superman Stephen Fry got a 2:1 and that Hugh Laurie got a 3rd, I paraphrase: 'he would be the first to admit that you know more about palaeontology than he does'.It falls slightly short of the 5* because Stephen is so intent on being charming, that I don't quite understand how he comes across as being not emotionally bothered that his live-in-lover takes a live-in-lover. Surely if he is not perturbed, he should be perturbed about not being naturally perturbed? A small gripe, found this funny, revealing, and very entertaining.
Review by Vaysh
16/06/2015
Interesting and charming but somewhat uneven continuation of Moab Is My Washpot. I thoroughly enjoyed the first two thirds or so, when we get glimpses of Cambridge life and the Footlights as well as some fascinating insights into what makes Stephen Fry tick. However, once the university years are over, we get a rather tedious recount of seemingly every project Stephen has ever worked on, every person he's ever been in contact with and every car and gadget he's ever bought, as well as lots and lots of namedropping people I've never heard of. I think I probably would have enjoyed this part more if I was a) British and b) had consumed a lot of BBC radio and television in the early 80's. Since neither of these things hold true (I grew up in Sweden and was about four years old at the time), a lot of the inside gossip went straight over my head.Another thing that irked a bit was Stephen referring to his coke addiction throughout the book, from chapter one and onwards, leaving plenty of tantalizing hints and then ending the book with basically "oh and then I became a coke head, bye" Cliffhanger for the next installment? Overall a good read though and I'll definitely read the follow-up if ever there is one. Stephen Fry has a fantastic way with words and it's a pleasure to read anything he writes.
Review by autumngirl70
16/06/2015
Fascinating insight into his life. I came to Fry via Jeeves and Wooster and some of his other comedy. Didn't know very much about his early life and some of his troubles. Thoroughly recommend this if he is someone you have watched. I listened to the audio version and it was great having Fry tell you the story himself. With his references to the reader, and listeners it's as though there are only the two of you.