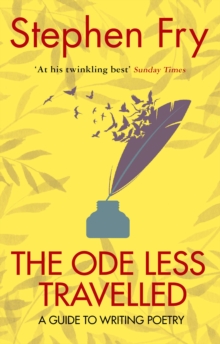 The Ode Less Travelled : Unlocking the Poet within
Paperback
Description
Stephen Fry believes that if you can speak and read English you can write poetry.
But it is no fun if you don't know where to start or have been led to believe that Anything Goes. Stephen, who has long written poems, and indeed has written long poems, for his own private pleasure, invites you to discover the incomparable delights of metre, rhyme and verse forms.
Whether you want to write a Petrarchan sonnet for your lover's birthday, an epithalamion for your sister's wedding or a villanelle excoriating the government's housing policy, The Ode Less Travelled will give you the tools and the confidence to do so.
Brimful of enjoyable exercises, witty insights and simple step-by-step advice, The Ode Less Travelled guides the reader towards mastery and confidence in the Mother of the Arts.
Other Formats
CD-Audio from £16.79
EPUB from £4.99
Free Home Delivery
on all orders
Pick up orders
from local bookshops
Reviews
Showing 1 - 4 of 4 reviews.
Review by ZenPatrice
16/06/2015
Very detailed look at appreciating the cadence of English poetry.
Review by sloopjonb
16/06/2015
Yes, just shut up being a smartarse for one minute, please, Stephen. You have some useful information to impart to us.
Review by lynnoconnacht
16/06/2015
Not at all what I was expecting. Interesting and Fry has come closer than anyone to explaining metre in a way that I actually understand (from a technical angle; I make no comment on my understanding from a practical angle), but the book and I never really clicked. It's a decent-to-good introduction to various forms, but it just felt like something was lacking to make it stand out for me.
Review by shanaqui
16/06/2015
I've been dipping in and out of this, rather than reading it straight through once. It isn't a textbook, if that's what you're looking for, but it is a very helpful guide. Stephen Fry's tone is light, funny, but his explanations and examples are good, and his attitude toward poetry -- that anyone can do it -- is refreshing. He's got a good overview of a lot of forms.