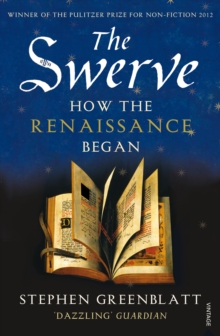 The Swerve : How the Renaissance Began
Paperback
Description
WINNER OF THE PULITZER PRIZE FOR NON-FICTION 2012Almost six hundred years ago, a short, genial man took a very old manuscript off a library shelf.
With excitement, he saw what he had discovered and ordered it copied.
The book was a miraculously surviving copy of an ancient Roman philosophical epic, On the Nature of Things by Lucretius and it changed the course of history.
He found a beautiful poem of the most dangerous ideas - that the universe functioned without the aid of gods, that religious fear was damaging to human life, and that matter was made up of very small particles in eternal motion.
These ideas fuelled the Renaissance, inspiring Botticelli, shaping the thoughts of Montaigne, Darwin and Einstein. An innovative work of history by one of the world's most celebrated scholars and a thrilling story of discovery, The Swerve details how one manuscript, plucked from a thousand years of neglect, made possible the world as we know it.
Winner of the 2011 National Book Award for Nonfiction
Information
Format: Paperback
Pages: 368 pages
Publisher: Vintage Publishing
Publication Date: 01/09/2012
Category: European history
ISBN: 9780099572442
Free Home Delivery
on all orders
Pick up orders
from local bookshops
Reviews
Showing 1 - 2 of 2 reviews.
Review by Gary10
16/06/2015
One of the most interesting books I picked up all year--maybe for several years. Although non fcition, reads like fiction. Fascinating account of the difficulty of saving classical thought and how so many critical texts were permanently lost or narrowly escaped oblivion. The description of how the Lucretius poem helped spur the Enlightenment and the scientific revolution was probably a bit overdrawn but made for great reading.
Review by armbrusm
16/06/2015
I wanted to like this book as much as Will in the World, which I really enjoyed, but The Swerve just didn't grab my imagination like WITW. All of the church history and Poggio's quest for the manuscript felt like a prelude that ended up comprising most of the story. I wanted more insight into The Nature of Things itself, more discussion of how it influenced Enlightenment and modern thinkers such as Jefferson. I also would have appreciated more of the drama of the rediscovered book's suppression - what Greenblatt write's about The Inquisition is fascinating, but he seeks to skim over it in a fairly cursory fashion.