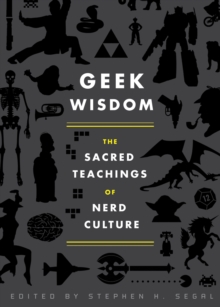 Description
We live in the era of the geek. Computer nerds are our titans of industry; comic-book heroes are our Hollywood idols; the Internet is our night on the town.
Clearly, the geeks know something that other folks don't - something we'd all do well to learn from.
So here it is: "Geek Wisdom", painstakingly gathered and interpreted by a diverse team of hardcore nerds who've spent years poring over the most beloved texts of the modern-day imagination.
Beginning with close to 200 of the most powerful and oft-cited quotes from movies (Do, or do not - there is no try), television (The truth is out there), comics (With great power comes great responsibility), science, the Internet, and more, "Geek Wisdom" offers illuminating insights into the eternal truths to be found therein.
Yes, this collection of mini-essays is by, for, and about geeks - but it's just so surprisingly profound, the rest of us would have to be dorks not to read it.
Information
Format: Hardback
Pages: 224 pages, spot line drawings
Publisher: Quirk Books
Publication Date: 02/08/2011
Category: Humour
ISBN: 9781594745270
Free Home Delivery
on all orders
Pick up orders
from local bookshops
Reviews
Showing 1 - 5 of 18 reviews.
Previous | Next
Review by stretch
16/06/2015
Geek Wisdom is full of some of the greatest geek quotes of all time, add the quick philosophical blurbs and this book is certainly more than meets the eye. Truth be told I only requested this book with a train wreck mindset, so I was a bit hesitant when I actually won it. However, I was pleasantly surprised by this book, it's funny, often witty, insightful, and never seems to take itself too seriously. Quite the accomplishment considering all the directions that this book could have gone. Like all book of quotes there is always going to some quibbles over ones left out and may appear dated decades from now, but who really cares when your looking for a fun quick read.
Review by Esquiress
16/06/2015
I am primarily a fiction reader, so I wasn't sure how I would do with what seemed like the equivalent of <i>Chicken Soup for the Geek's Soul</i>, but I knew I had to have this book; after all, I am definitely a theatre, literature, and D&amp;D nerd. <i>Geek Wisdom</i> definitely did not let me down, as I laughed out loud several times while reading it. My husband and his best friend also read it; they are both certifiable geeks and enjoyed it too. I kept finding random bookmarks placed throughout, because all three of us actually ended up reading the book simultaneously.<i>Geek Wisdom</i> is a great waiting room book, or a book to read when you don't have a lot of time to sit down and really get into a book. You can read one or two pages or half of the book (both of which I did), and you can get just as much enjoyment out of it either way.I feel smarter having read <i>Geek Wisdom</i>, and that's just about the best thing a geek can ask for in a book. Even though I haven't seen/ played/ experienced everything quoted in this book, I now know enough to not be left out of "inside geek jokes" when I'm hanging out with fellow geeks. I'm going to be passing copies of this book around to several friends and colleagues in the coming months, and I plan to hang the poster that came with my review copy in our home office. I think that's saying something, isn't it?
Review by Magus_Manders
16/06/2015
Heheh, what a fun little book. In the introduction to <i>Geek Wisdom</i>, Segal glibly states that as a child, his religion was science fiction ( full disclosure, so was mine). He and his co-writers have done their best to sum up the most important lessons in life through the medium of the geeky bon mot. Movie quotes, internet memes, quirky tee-shirts, it's all here. Each quote gets its own page, which expounds upon what we've learned of human nature, good and evil, ourselves, and the universe, through the media we consume. Some are quite funny, some serious, and some a bit far fetched, but all of them are loving and hold special places in the geek's (or at least my) lexicon. There are points where <i>Geek Wisdom</i> can't decide if it's being written for an audience of categorical media-consumers or the average mundane, but it takes itself with enough humor that one can vest in it as much or as little weight as one chooses.
Review by dschander
16/06/2015
Now this is a keeper. Geek Wisdom is a funny and surprisingly insightful look at the statements we geeks have taken to heart. Each entry begins with a quote -- mostly well-known, though occasionally obscure -- from a book, movie, video game, etc. Segal and his writers then examine the words for a life lesson. I found myself nodding along in places, giggling in others and sometimes thinking "cool, never thought of it that way". What could be trite is affirming instead. It's not a book you'd normally read cover to cover -- just open it up at random and see what you get, I'd say; you'll be glad you did.I also have to give a shout out to the designer. This is one fine book. The dust jacket is quirky and fun, and the actual cover of the book (with "geek" spelled out) may be even better.
Review by bragan
16/06/2015
Stephen H. Segal has gathered a collection of quotes from a wide variety of sources that don't have much in common except that they can all be described as "things enjoyed by geeks." So we've got Yoda and Kurt Vonnegut, Inigo Montoya and Nikola Tesla, Rod Serling and Carl Sagan and Monty Python and two different characters named Morpheus. For each, there's a little page of commentary on the quote or the character or the source material, relating it to some aspect of life, the universe, and everything. (And yes, of course, Douglas Adams is in here, too.)As someone who deeply loves the stuff of "nerd culture" and who is infinitely more likely to ask herself "What would Mr. Spock do?" than "What would Jesus do?", this seemed right up my alley. But I'll admit I was a little trepidatious going into it. There are <I>so</I> many ways something like this can go wrong. It could be another insipid attempt at "inspirational writing." It could be painfully over-earnest or embarrassingly self-mocking, or even just a cynical attempt to cash in on an audience that tends to be enthusiastic to the point of obsession. I've seen stuff like that before. I don't remember <I>All I Really Need to Know I Learned From Watching Star Trek</I> very well -- which may be for the best -- but I do remember thinking it was terribly lame.So I'm delighted to be able to report that this book avoids every one of those pitfalls. It really is genuinely thoughtful, sometimes even surprisingly insightful, but it doesn't take itself too seriously, either. In fact, it's got a terrific sense of humor; I repeatedly found myself laughing out loud. And the contributors are plugged into geek culture in a way that's impossible to fake. I can tell they love this stuff just as much as I do, and that alone is enough to make this entertaining in much the same way as those long-ago dorm room conversations in which my friends and I would sit around analyzing <I>Star Trek: The Next Generation</I> episodes. And who knows? Maybe the next time I'm feeling in need of a little nugget of geeky wisdom, I'll pull it back down off the shelf, flip it open, and see if Gandalf or Galileo or has something worthwhile to say.