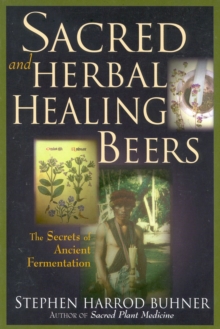 Sacred and Herbal Healing Beers : The Secrets of Ancient Fermentation
Paperback
Description
Often radical and controversial, Buhner has clearly and beautifully explored the mysterious universal beliefs between ancient arid indigenous cultures as to the spirituality and healing power of plants and fermentation.
In the spirit of Carlos Castenada, he forges a quest in pursuit of the experiential.
Highlights of comprehensive information never presented in one volume include: mead, honey and hive products; heather ale; psychotropic beers; and beers and ales from sacred and medicinal trees and plants.
Information
Format: Paperback
Pages: 450 pages, colour & b/w illus
Publisher: Brewers Publications
Publication Date: 18/09/1998
Category: Beers
ISBN: 9780937381663
Free Home Delivery
on all orders
Pick up orders
from local bookshops
Reviews
Showing 1 - 2 of 2 reviews.
Review by cdddddd
16/06/2015
Wow, this book is wild. The essential premise is: at this time Western culture consumes only two alcoholic beverages; all beer is a watery solution of fermented barley and hops, and all wine is fermented grape juice. But many societies, including Europe before the Reformation, consumed lots of different fermented beverages made from different sugars, juices, grains, and herbs, all with varying degrees of alcoholic and nutritional content. <br/><br/>Those beverages are what this is about. Sage beer. Gruit ale. Mugwort. Mead. Molasses beer. Maple syrup beer. Er...even banana beer and pine ale. I think there's hundreds of these variations, and for many of them the historical background is given. There's extensive quoting of historical sources throughout, such as old brew cookbooks and alewife's instructions. <br/><br/>Many home brewing books and resources prohibitively complicate things. What this book helps you realize is that alcohol fermentation doesn't have to be hard; all you need is a sugar source and a yeast source in solution (aka water). I mean Nigerians drink the watery sap from palm trees which is already being fermented off the tree by native yeasts. <br/><br/>So everything else besides yeast sugar is optional and up for ideas. So look outside the confines of just hops and malt. This book can help you think about other flavors or herbs you might like to try.<br/><br/><b>What's bad:</b>I don't trust the recipes, they're all over the place, so use them like guides. <br/><br/>Despite being all about ancient brewing methods, he kinda distrusts wild yeast and still resorts to storebought packets of yeast for all his recipes. Using the simple instructions in Sandor Katz's "The Art of Fermentation" I've got a pretty vigorous wild yeast starter from honey that I've sustained for a few months now. I don't think our ancestors got crazy about purchasing purified yeast strains.<br/><br/>Several probably dangerous and strongly psychoactive herbs (e.g. wormwood and many others) are freely discussed and recommended to the reader. The author has a low regard for drug laws and a sacred regard for altered states of consciousness. I don't know much about these plants, but I'd advise caution in seeking out any ingredient you don't already use and know. <br/><br/>Aside from that there's a lot of sketchy herbal medicine in here. I don't have a problem with generally accepted herbal medicine&amp;mdash;I mean, via this book I just made a chamomile ale&amp;mdash;just quackery. One herb "shows promise in treating Reynaud's disease." What does that even mean? "Fever patients" are told to drink wormwood ale "for thirty days"&amp;mdash;I don't know what a month of wormwood does to you, but if you have a fever for thirty days, please get yourself to the ER. It's always "scientists are discovering" and "studies are showing" that X herb works like chemotherapy or Y herb helps with pneumonia or diuresis. Many sentences are taken up with this sort of thing, and for me this stuff just gets in the way. <br/><br/><b>My recommendation?</b> I assume if you want to brew plain-jane beer at home, you would not buy this book first. If you're looking into 'wild' and 'natural' fermentation methods, go to Sandor Katz. But either way at some point read this book for the the possible ingredients and ferments that are out there.
Review by satyridae
16/06/2015
Man, this book makes me want to run right out and start brewing! It's got lots and lots of recipes for making ale and beer out of any sort of plant one can think of, and even some one cannot. Mustard beer, anyone? Yeah, me neither. <br/><br/>It's an erudite compendium of plant lore, an interesting collection of recipes, and an intriguing collection of anthropological detail.<br/><br/>Recommended for people who are apt to read cookbooks like fiction.
Also by Stephen Harrod Buhner | View all