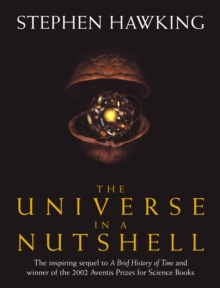 The Universe in a Nutshell
Hardback
Description
Stephen Hawking's A Brief History of Time was a publishing phenomenon.
Translated into thirty languages, it has sold over nine million copies worldwide.
It continues to captivate and inspire new readers every year.
When it was first published in 1988 the ideas discussed in it were at the cutting edge of what was then known about the universe.
In the intervening years there have been extraordinary advances in our understanding of the space and time.
The technology for observing the micro- and macro-cosmic world has developed in leaps and bounds.
During the same period cosmology and the theoretical sciences have entered a new golden age.
Professor Stephen Hawking has been at the heart of this new scientific renaissance.
Now, in The Universe in a Nutshell, Stephen Hawking brings us fully up-to-date with the advances in scientific thinking.
We are now nearer than we have ever been to a full understanding of the universe. In a fascinating and accessible discussion that ranges from quantum mechanics, to time travel, black holes to uncertainty theory, to the search for science's Holy Grail - the unified field theory (or in layman's terms the 'theory of absolutely everything') Professor Hawking once more takes us to the cutting edge of modern thinking.
Beautifully illustrated throughout, with original artwork commissioned for this project, The Universe in a Nutshell is guaranteed to be the biggest science book of 2001.
Information
Format: Hardback
Pages: 224 pages
Publisher: Transworld Publishers Ltd
Publication Date: 05/11/2001
Category: Popular science
ISBN: 9780593048153
Free Home Delivery
on all orders
Pick up orders
from local bookshops
Reviews
Showing 1 - 1 of 1 reviews.
Review by Pompeia
16/06/2015
I read Stephen Hawking's previous book, A Brief History of Time when I was about 16 years old. That book was great and pretty easy to understand even though I didn't know much about physics back then. Now, ten years later, having spent five of those years studying physics at university level, I can't find much enjoyment in this book. Admittedly, it could be a question of my taste changing while growing up - but I still enjoy A Brief History of Time. Although there were many new tidbits for me (I'm by no means an astrophysicist) and I enjoyed reading the book, the sense of wonder was not there. The "plot" of the book was hard to follow since the book wasn't as well structured as ABHoT. Also, I have a feeling that if I had read this book back when I was 16, I might not have understood very much of it, so I'm not sure that this book is as suitable to someone who has never studied physics.All in all, a good book if you enjoy physics without the equations every once in a while, but not something I would recommend as a must read for a beginner.