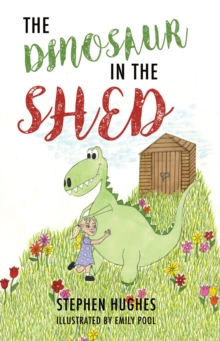 The Dinosaur in the Shed
Paperback / softback
Description
This is the not so every day story of a little girl, Hannah, who hatches out an egg she finds in the local park.
Hannah and her parents get quite the shock when they discover that the new family member is a dinosaur!
Despite his happy and gentle nature, sharing a house with Harry the dinosaur has its drawbacks.
His appetite, for example, but also those little accidents you inevitably get when you open your house up to something not really domesticated and the size of a mountain gorilla...
The answer is for Harry to go and live in the shed. But how do you keep him a secret? The answer is you can't, cue the villain of the story Mr Riley, the intolerant and unpleasant next door neighbour who discovers the secret of the shed and slowly hatches a plot which even makes him smile, an event as rare as... well, as rare as hatching a dinosaur. What fate does lie in store for Harry, probably the world's only living dinosaur and definitely the only one living in a shed in suburban Britain?
Information
Format: Paperback / softback
Pages: 48 pages
Publisher: Troubador Publishing
Publication Date: 07/09/2017
Category: Animal stories
ISBN: 9781788035170