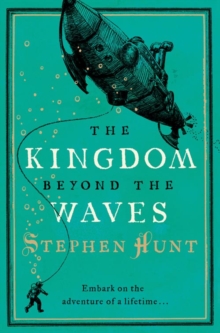 The Kingdom Beyond the Waves
Paperback
Description
From the author of The Court of the Air comes a hugely engaging, Victorian-style adventure, filled with perilous quests, dastardly deeds and deadly intrigue - perfect for all fans of Philip Pullman and Susanna ClarkeProfessor Amelia Harsh is obsessed with finding the lost civilisation of Camlantis, a legendary city from pre-history that is said to have conquered hunger, war and disease - tempering the race of man's baser instincts by the creation of the perfect pacifist society.
It is an obsession that is to cost her dearly. She returns home to Jackals from her latest archaeological misadventure to discover that the university council has finally stripped her of her position in retaliation for her heretical research.Without official funding, Amelia has no choice but to accept the offer of patronage from the man she blames for her father's bankruptcy and suicide, the fiercely intelligent and incredibly wealthy Abraham Quest.
He has an ancient crystal-book that suggests the Camlantean ruins are buried under one of the sea-like lakes that dot the murderous jungles of Liongeli.Amelia undertakes an expedition deep into the dark heart of the jungle, blackmailing her old friend Commodore Black into ferrying her along the huge river of the Shedarkshe on his ancient u-boat.
With an untrustworthy crew of freed convicts, Quest's force of female mercenaries on board and a lunatic steamman safari hunter acting as their guide, Amelia's luck can hardly get any worse.
But she's as yet unaware that her quest for the perfect society is about to bring her own world to the brink of destruction...
Information
Format: Paperback
Pages: 560 pages
Publisher: HarperCollins Publishers
Publication Date: 01/09/2008
Category: Thriller / suspense
ISBN: 9780007232215
Free Home Delivery
on all orders
Pick up orders
from local bookshops
Reviews
Showing 1 - 2 of 2 reviews.
Review by rakerman
16/06/2015
Crazed Raiders of the Lost Ark serials-type adventure in Hunt's usual style for this series. Every success followed by a greater cliffhanger disaster. Reasonably satisfying, bad guy had believable motivation.
Review by jlparent
16/06/2015
(Bk 2 of series)Steampunk-fantasy-adventure a la Jules Verne feel...there is soooo much going on in this entry of the series. For example: clockwork computers, an assasin who is a shapeshifter, oh and let's not forget Professor Amelia Harsh, an archaeologist who is magically enhanced and a submarine manned by a less than savory crew - among many other things...now to try to find the rest of the series...