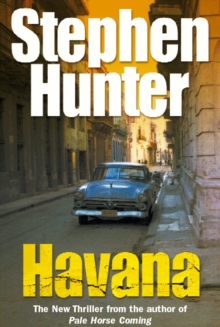 Havana
Paperback / softback
Description
High summer in Cuba, 1953, and Havana gleams with possibility.
Flush with booming casinos, sex, and drugs, Havana is a lucrative paradise for everyone from the Mafia and United Fruit to pimps, porn-makers, and anyone looking to grab a piece of the action - including the Cuban government, which naturally honours the interests of its old ally, the United States of America.
Of course, where there's paradise, trouble can't be far behind.
Trouble, in this case, makes its entrance in the terrifically charismatic and silver-tongued form of a young revolutionary named Fidel Castro.
The Caribbean is fast becoming a strategic Cold War hub, and Soviet intelligence has taken Castro under its wing.
The CIA's response is to send the one man capable of eliminating Castro: the legendary gunfighter and ex-Marine hero Earl Swagger, who proved his lethal talent in Stephen Hunter's previous bestsellers Hot Springs and Pale Horse Coming.
In Cuba, Earl finds himself up to his neck in treacherous ambiguity, where the old rules about honour and duty don't apply, and where Earl's target seems to have more guts and good luck than anyone else in Cuba.
Blending real-world figures into a lightning-paced narrative, Stephen Hunter once again proves himself the master of literary adventure and suspense.
Information
Format: Paperback / softback
Pages: 432 pages
Publisher: Cornerstone
Publication Date: 20/03/2004
Category: Thriller / suspense
ISBN: 9780099471448
Free Home Delivery
on all orders
Pick up orders
from local bookshops