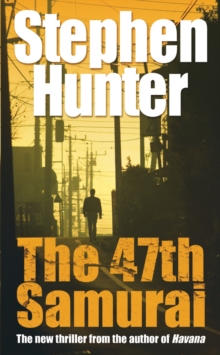 The 47th Samurai
Paperback
Description
Bob Lee Swagger has seen enough of war and fighting for any man: his past as a Marine Corps sniper and later as a self-appointed avenger has been a bloody one.
But the hope that he is finished with combat are dashed with a visit from Colonel Philip Yano.
Yano has come to America to find a samurai sword that Bob's father took from Yano's dying father in the desperate battle for Iwo Jima in 1945.
Yano believes the sword to be a national treasure, of huge political significance to whoever can get hold of it.
Bob agrees to help and delivers the sword to Yano in Tokyo, but soon afterwards the Yano family are murdered, their house burned to the ground and the sword stolen.
Dark forces are at work. With the aid of Yano's old comrades , Bob enters not only Tokyo's criminal underbelly, but also the violent, obsessive world of the Samurai.
Once more he is on a mission of vengeance.
Information
Format: Paperback
Pages: 368 pages
Publisher: Cornerstone
Publication Date: 07/08/2008
ISBN: 9780099519232
Other Formats
eAudiobook MP3 from £13.49
Free Home Delivery
on all orders
Pick up orders
from local bookshops
Reviews
Showing 1 - 1 of 1 reviews.
Review by Penforhire
16/06/2015
I enjoy reading the adventures of the Swagger family. I do wish this was at least placed earlier in the life of Bob Lee though. It becomes intolerable near the end, when an aging Bob Lee takes on a master swordsman nearer to his prime.I really wish that part of the plot ran a little differently. Look at it this way - Bob was a Marine sniper who did a lot of work in wartime. He must understand that the only engagement someone should make by choice is through surprise and overwhelming firepower. A fair fight is a bad idea, even with his 'hardscrabble Arkansas' ethics. You could see some of that in how he approached the sword polisher's shop full of Yaks.Knowing this, it would have made infinitely more sense if Bob either pulled out a gun and shot the bad guy (reminds me of a line in the original Killer Elite movie) or, perhaps even better, if the bad guy ended up sniped by the nearby Japanese Defense Forces during the final sword fight. C'mon, how satisfying would either of those twists have been?! Okay, one more idea then, how about if the bad boy's dad showed up to stand in for Swagger (or save hime when he's down) and duel his own son? That would satisfy the samurai ethic!Yeah, I get that Bob was immersed in Japanese samurai ethics. I watch a lot of samurai movies myself. But he also has a wife and child waiting for him back home. The man was so selfish it turns us off his character a little.I also get that Bob is a fast dedicated learner with natural gifts (fast hand speed, good eyes, no fear, knows how to fight life-and-death). I still do not believe that, after a week or so of 24/7 training and a bunch of scything to clear land, he would last a single pass against someone who trained all his life with the sword. Unless of course that swordsman was really not so good. Mr. Hunter does not give us the slightest inkling that the bad guy here is anything but top-shelf talent and training. His own guys underestimated Swagger so why would he? The hip-thing was VERY cute but ultimately not satisfying.Grrr! It just gets me riled up when plots do not resolve themselves in their natural courses.