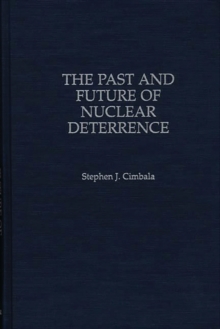 The Past and Future of Nuclear Deterrence
Hardback
Description
As proven by the recent discovery of ongoing research and tests in India and Pakistan, the nuclear age is not dead.
Nuclear weapons, deployed in plentiful numbers during the Cold War by the Americans and Soviets, and, in lesser numbers, by others, were nevertheless controlled in their use by the essential equivalence, of U.S. and Soviet strategic power and by the ability of the U.S. and the Soviet Union to dominate the international security environment by means of their global military power.
Now the setting within which nuclear weapons exist has been transformed. Now that the Cold War has ended, and the Soviet Union has vanished, states seeking nuclear weapons operate under decision making rules that are sometimes opaque to Western observers.
If the end of the Cold War leads to the unrestrained spread of nuclear weapons, Cimbala stresses that a combination of military hubris and arms control insolvency could lead to new nuclear crises or worse.
The author provides a provocative analysis for policy makers and professional military staff as well as scholars and researchers involved with international relations, security studies, and arms control.
Free Home Delivery
on all orders
Pick up orders
from local bookshops