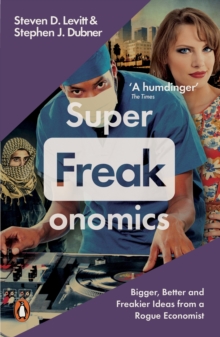 Superfreakonomics : Global Cooling, Patriotic Prostitutes and Why Suicide Bombers Should Buy Life Insurance
Paperback
Description
The international bestselling Freakquel to Levitt and Dubner's Freakonomics, this book sees them looking deeper, questioning harder and uncovering even more hidden truths about our world, from global cooling to patriotic prostitutes, drunk walking to why suicide bombers should buy life insurance. 'Mind-blowing' Wall Street Journal 'Page-turning, politically incorrect and ever-so-slightly intoxicating, like a large swig of tequila' The Times 'Like Freakonomics but better ...you are guaranteed a good time' Financial Times 'Great fun ...Levitt is a master at drawing counter-intuitive conclusions' Sunday Times 'Studded with intriguing examples' Daily Telegraph
Information
Format: Paperback
Pages: 320 pages
Publisher: Penguin Books Ltd
Publication Date: 24/06/2010
Category: Society & culture: general
ISBN: 9780141030708
Free Home Delivery
on all orders
Pick up orders
from local bookshops
Reviews
Showing 1 - 5 of 5 reviews.
Review by rcorfield
16/06/2015
SuperFreakonomics was a quick read. Lacking the impact of the first book, but still interesting. Distinctly heretical & un-PC in places.
Review by stefano
16/06/2015
Entertaining as the previous book "Freakonomics" but a bit more 'scattered' in terms of content (the last chapter on global warming seems really out of place). The economic analysis of prostitution seems a bit callous (what percentage of prostitutes really are high-end escorts? if that percentage is small, shouldn't the discussion be a bit more concentrated on the average situation?). A good read for a short flight if you pick it up at the airport but I wouldn't recommend it more generally.
Review by timtom
16/06/2015
Banking on the success of their previous book, Levitt and Dubner deliver their new handful of unorthodox theories about just anything provided it's a bit raucous so as to draw in the crowds (a new helping of hooker's business model anyone?). Not all stories are created equal: I enjoyed the ingenuity of the banking activity-based terrorist detector scheme, for example, but got increasingly worried as I read the chapter on global warming. While the tone is one of noncommittal objectiveness in the previous chapters, the authors grow positively ecstatic about the Dr. Frankenstein's geoengineering schemes proposed by Nathan Myhrvold... Could this discrepancy reveal a not-so-subtle hidden agenda?In any case, it is still an entertaining read, although what made the first Freakonomics original is starting to wear off.
Review by TheCrow2
16/06/2015
The Sequel to Freakononics still a good book but simply not as fascinating and mind-blowing as it's predecessor. Sometimes the themes aren't so good (the one with global warming was... well, I simply don't understand why it was in the book) sometimes simply not interesting enough. But was a god read still. I enjoyed especially the economics of prostitution and some odd litlle details (the perils of drink-and-walk, why footballists have their birthday in the first months of the yeat, etc.)
Review by nocto
16/06/2015
I think I'm probably pretty much satiated with the application of (sciencey thing) to (everyday thing) book genre. At least in regard to (sciencey thing)=(economics). Which, I suspect, is unlikely to stop me picking up other books in the genre in the future. I did feel like I'd read a whole heap of this before in one form or another though.