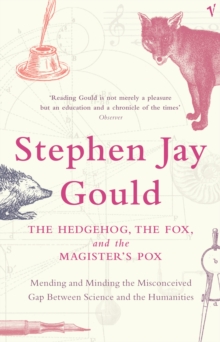 The Hedgehog, The Fox And The Magister's Pox : Mending and Minding the Misconceived Gap Between Science and the Humanities
Paperback
Description
Completed shortly before his death, this is the last work of science from the most celebrated popular science writer in the world.
In characteristic form, Gould weaves the ideas of some of Western society's greatest thinkers, from Bacon to Galileo to E.
O. Wilson, with the uncelebrated ideas of lesser-known yet pivotal intellectuals.
He uses their ides to undo an assumption born in the seventeenth century and continuing to this day, that science and the humanities stand in opposition.
Gould uses the metaphor of the hedgehog - who goes after one thing at a measured pace, systematically investigating all; the fox - skilled at many things, intuitive and fast; and the magister's pox - a censure from the Catholic Church involved in Galileo's downfall: to illustrate the different ways of responding to knowledge - in a scientific, humanistic or fearful way.
He argues that in fact each would benefit by borrowing from the other.
Information
Format: Paperback
Pages: 288 pages
Publisher: Vintage Publishing
Publication Date: 01/03/2004
Category: Popular science
ISBN: 9780099440826
Free Home Delivery
on all orders
Pick up orders
from local bookshops
Reviews
Showing 1 - 2 of 2 reviews.
Review by jjmcgaffey
16/06/2015
Like most of Gould's single-subject books, not all that interesting. There's interesting concepts introduced and illustrated...then the same concepts are further developed...then further...then...zzzzz. I'm glad I read it but I doubt I'll read it again. The basic concept is that the humanities and science aren't opponents, or even all that different - or rather, they are different, but the same techniques that help with one will help with the other. Good writing is useful in science, and popular does not equal bad; logic and reductionism can help with humanities (though not necessarily with the big questions - those don't reduce very well). The title reference is to a fable about the hedgehog having one very good trick and the fox having many - though even having read the whole thing, I'm not quite certain which one he equates with which discipline. And the magister's pox is an attempt at censoring a book, wiping out all references to non-Christians - which didn't work so well in this book full of quotes from the ancients. Cute, but a weak foundation for this complex logic.
Review by psiloiordinary
16/06/2015
OK it's my fault - I just put this on my list as "another one of those oddly titled collections of his essays". It isn't.This is the last book he wrote before he died and indeed he did not finish editing it in to shape. It is a book discussing the perceived gap between science and the humanities using some of the very old books in his personal collection as an illustration and evidence in favour of his points.Gould is a good writer but this is both unfinished and rather a change of subject and certainly much drier and less interesting than his scientific writing. I did enjoy it none the less and found the details of religious censorship fascinating.So I'm not telling you to avoid it - just to be aware of just what this book is before you buy it.