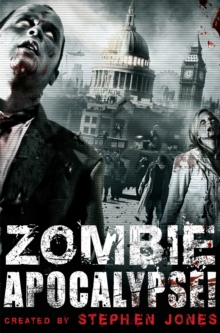 The Zombie Apocalypse!
Paperback
Description
A "mosaic novel" set in the near-future, when a desperate and ever-more controlling UK government decides to restore a sense of national pride with a New Festival of Britain.
However, controversial plans to build on the site of an old church in South London releases a centuries-old plague that turns its victims into flesh-hungry ghouls whose bite or scratch passes the contagion on to others.
Even worse, the virus may also have a supernatural origin with the power to revive the dead. Despite the attempts of the police, the military and those in power to understand and contain the infection commonly referred to as "The Death", it soon sweeps across London, transforming everyone who comes into contact with it.
With the city - and the country - falling into chaos, even a drastic attempt at a "Final Solution" to eradicate the outbreak at its source fails to prevent it from spreading to Europe and then quickly throughout the rest of the world. Soon there is no more news coming out of Britain ...and it is up to those survivors in other countries to confront the flesh-eating invaders within their midst. Will humanity triumph over a world-wide zombie plague, or will the walking dead ultimately inherit the Earth? Told through various disparate and overlapping eye-witness accounts, through texts, e-mails, blogs, letters, diaries, transcripts, official reports and other forms of communication, a picture builds up of a world plunged into chaos - where the dead attack the living, and only one of them can be the ultimate victor. Written by some of the biggest and best-known names in horror and science fiction, these interconnected narratives create a unique vision of the End of the World brought about by a plague that may have its origins in both science and the occult. Praise for Stephen Jones: 'Horror's last maverick.' - Christopher Fowler 'Stephen Jones ...has a better sense of the genre than almost anyone in this country.'- Lisa Tuttle, The Times Books 'The best horror anthologist in the business is, of course, Stephen Jones.' - Roz Kavaney, Time Out 'Edited by Stephen Jones, a member of that tiny band of anthologists whose work is so reliably good that you automatically reach out and grab hold of any new volume spotted if you are wise.'- Gahan Wilson, Realms of Fantasy 'One of the genre's most enthusiastic cheerleaders.' - Publishers Weekly
Information
Format: Paperback
Pages: 512 pages
Publisher: Little, Brown Book Group
Publication Date: 01/10/2010
Category: Horror & ghost stories
ISBN: 9781849013031
Free Home Delivery
on all orders
Pick up orders
from local bookshops
Reviews
Showing 1 - 2 of 2 reviews.
Review by BeeQuiet
16/06/2015
This book was a bit of an impulse buy, largely made because I was told I could get a book for free as I had two from a 3 for 2 section. All I can say is that I am glad I effectively got it for free as opposed to paying good money for it.The concept itself is a good one, collecting an anthology of material from different authors and putting it all together like documents gathered after the event of the crisis. The effect was to be something along the lines of World War Z, and I was looking forward to a bit of nice brainless zombie fiction (apologies for the brains pun). Unfortunately having such a mixture of authors means that the really poor writers had nowhere to hide, being shown for all their dreadfulness against some really good pieces. This is the reason why I haven't given this book a lower score; there are some little gems in there, but overall, I was not impressed.C- "Must try harder, see me after class"
Review by naturalbri
16/06/2015
The StoryHow did we get here? Well, I guess it started with the economy and lack of faith in our country, Britain. People were struggling to get by, not knowing how to amen ends meet, even with working double or triple jobs. Kids weren't going to school most days, with teachers continually striking. There really wasn't much to look forward to. The government thought they could fix it all, by bringing back belief in out country, helping bring back the 'Great' in Britain. Most of us didn't agree with their plan to host a 'New Festival,' but we didn't get a choice in the matter. So, off the government went to spend more money than ew had on this festival, rather than putting money back into the people. Most of us were against it, purely for the fact that they were spending money we didn't have and spending it on a worthless festival. However, some people were against it for a different reason entirely. One that would change the face of Britain, and the world, forever. If only the government had listened to them. If only they had paid attention, then we wouldn't be were we are now - fighting to stay alive in this zombie apocalypse. * * *These are the accounts, news and remnants of that event. It seems so long ago, but it all makes sense now. Perhaps you'll understand why it happened and what made us the way we are, from these historical details. Perhaps...My ThoughtsI have always been a great lover of zombie books, when they are done well. Often they take on the same story - disease/infection turns human to zombie, zombie turns more humans to zombies, world infected, people try to fight back and usually win...somehow. However, this story is very different. It isn't a mere account of the days the zombie plague started, and then a story from there. It is the remnants of the world, as these events took place. It reminds me of how we see news, often with snippets of what is happening, pieces of clues left behind and we piece together the whole story. That is the direction Stephen Jones took, and it worked so well. You are taken to a time when Great Britain was suffering and it would do anything to bring its proud country back. The government hatched a plan to host a festival and would avoid any delays to make it possible, even health and safety issues. Even if those issues involved a once dormant section of the plague. From that fateful few days, we begin to get letters, news snippets, diaries and recordings of actual people's accounts of the events. We watch, read and hope for the best as they turn or watch those around them turn. The news style writing gives us the feeling that we are right there, living in this world, and reading about the latest news on the zombie threat. We are there as the enemy turns into something more and we are there to pick up the pieces and decide where to go next. I loved this style of writing and found that it was a fun, new way to take on a zombie story. It left things interesting, action-filled and was able to give us a full account of the world, without making it feel forced. It does mean that you have to be prepared that there isn't one main character or place, but more a collage of people and places to create a world of mains. The pace of the story is excellent, as were are given enough time to learn about each account and character, as well as gaining needed details on the progression of the zombies, but the story doesn't linger or grow boring. It also moves swiftly enough that you get the sense of urgency and fear. The characters are deep, even though we are only with them for short periods of time. We learn enough about them to grow fond of them and know what to expect from them, but are not stuck dwelling on a single character as the story moves on. OVERALL: I love this take on a zombie threat. It is detailed and fast-paced, and gives you a feeling that you are actually there. The way it takes on the story in news, letters, etc it makes you feel as though it could really happen. I would highly recommend this story to new adults and above - perhaps age 16 + due to some sections being graphic. Though it could be handled by 14s. I would highly recommend having a go at this book if you are a zombie lover, a thriller lover and/or you want something a little deadly for Halloween.