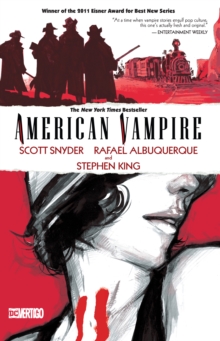 American Vampire TP Vol 01
Paperback
Description
This first volume of the critically acclaimed series collects issues #1-5 and follows two stories: one written by Scott Snyder and one written by Stephen King, both with art by superstar Rafael Albuquerque.
Snyder's tale follows Pearl, a young woman living in 1920s Los Angeles, who is brutally turned into a vampire and sets out on a path of righteous revenge against the European monsters who tortured and abused her. And in King's story set in the days of America's Wild West, readers learn the origin of Skinner Sweet, the original American vampire - a stronger, faster creature than any vampire ever seen before.
Information
Format: Paperback
Pages: 200 pages
Publisher: DC Comics
Publication Date: 05/10/2011
Category: Comics and Graphic Novels
ISBN: 9781401229740
Free Home Delivery
on all orders
Pick up orders
from local bookshops
Reviews
Showing 1 - 5 of 6 reviews.
Previous | Next
Review by flyear
16/06/2015
Awesome artwork, movie style story telling, lovable character and mysteries! That's enough for a very decent graphic novel. I can't stop reading from the beginning. And with high expectation with the second book. Highly recommended, if you like some dark material.
Review by snat
16/06/2015
I've always loved vampire narratives, but these days I feel as though I have to make that statement with a "but not those sparkly Meyers' bullshit vamps" disclaimer because the term "vampire" now requires two definitions: 1) glittering and eternal boy band wannabe who tries to protect naive (and horny!) young women from the monster he's become while slurping up woodland critters like they're Hi-C fruit boxes, and 2) vampires who seduce and cruelly toy with their prey before ripping open a jugular and letting someone else worry about the clean up. When it comes to vampires, I'm more of a "Team Kill" than "Team Brood." I tell you all of this to say that I really enjoyed American Vampire, which returns vampires to their more horrific origins: the single-minded drive of a predator coupled with human intelligence. Nothing is more terrifying. The story is actually two intertwined narratives: the story of Skinner Sweet, a ruthless outlaw in the twilight of the Old West, and Polly, a Hollywood extra in the 1920's. Until Skinner is accidentally turned, vampires in America consist of Old World European vampires who have come to the United States to feed on the economic boom, as well as the unsuspecting populace. With Skinner's creation, a new kind of vampire is brought into being: one who can walk during the day and who is not susceptible to the weaknesses of the generation that came before him. It turns out that, with each new vampiric creation, a new and unpredictable strain of vampirism comes into being. Therefore, the European vampires jealously guard their "gift" lest they create a breed that can eventually overthrow them. This plot twist promises for rich and varied narratives as we follow these vampires into future storylines; Skinner creates Polly, a vampire whose powers mimic Skinner's but may ultimately eclipse his. Of the two storylines, I preferred the Stephen King narrative about Skinner Sweet, but I'm a sucker for the Old West. However, it was a close call as Snyder's tale is equally intriguing and Polly is definitely one badass mamma-jamma. While not quite as violent as I expected, Snyder and King have definitely given a tired genre a new life with plenty of subtext about American innovation versus European traditionalism. So keep the anemic Edwards of young adult narratives. From now on, I'll take my vampires like I take my tea--Sweet, please.
Review by salimbol
16/06/2015
Entertaining, if graphically violent (not to mention cheerfully nasty), vampire-western.
Review by kmaziarz
16/06/2015
In a graphic novel series billing itself as "a new vampire for a new century," Western outlaw Skinner Sweet is accidentally transformed into a vampire when the blood of an old European-style vampire splashes across his mortally wounded body. No one realizes that Sweet is undead in his grave—until years later when graverobbers dig him up and get a terrifying surprise. Sweet is a different breed of vampire than his creators; he is stronger and faster, powered by the sun and thus able to walk and hunt by day, able to transform horribly with a distended jaw and huge talon-like fingers, and with a different set of weaknesses. He proceeds to set about feuding with the old breed European vamps, mostly rich old men who seek to keep American industry under their thumbs as they did European, as well. Not until decades later does Sweet create another of his kind, and he inexplicably chooses a spunky young wanna-be actress in 1920s Hollywood, Pearl Jones, who has been abused horribly by the European vamps in charge of the studios. As the series progresses, Pearl becomes one of the focus characters, as do the descendants of the sheriff who originally sought to put Skinner Sweet behind bars—and later, in his grave.Vibrant, colorful, and dynamic illustrations contribute to this compelling new spin on the vampire story. Skinner Sweet and Pearl Jones make a perfect odd-couple of protagonists as each deals with becoming a monster in a very different way, drawn to one another despite themselves. A lot of fun!
Review by sturlington
16/06/2015
The first few issues of this comic were written in part by Stephen King. It is an engaging horror comic about the history of vampires in America. I have stopped collecting the series.<I>Read because of the Stephen King connection (2010).</i>