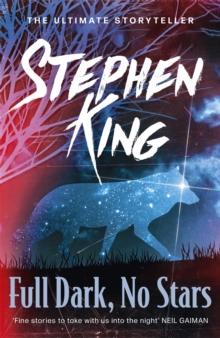 Full Dark, No Stars : featuring 1922, now a Netflix film
Paperback
Description
Is it possible to fully know anyone? Even those we love the most? What tips someone over the edge to commit a crime?For a Nebraska farmer, the turning point comes when his wife threatens to sell off the family homestead.A cozy mystery writer plots a savage revenge after a brutal encounter with a stranger.Dave Streeter gets the chance to cure himself from illness - if he agrees to impose misery on an old rival.And Darcy Anderson discovers a box containing her husband's dark and terrifying secrets - he's not the man who keeps his nails short and collects coins. And now he's heading home . . .Like DIFFERENT SEASONS and FOUR PAST MIDNIGHT, which generated such enduring hit films as The Shawshank Redemption and Stand by Me, FULL DARK, NO STARS proves Stephen King a master of the long story form.
Information
Format: Paperback
Pages: 480 pages, None
Publisher: Hodder & Stoughton General Division
Publication Date: 01/07/2011
Category: Thriller / suspense
ISBN: 9781444712568
Free Home Delivery
on all orders
Pick up orders
from local bookshops
Reviews
Showing 1 - 3 of 3 reviews.
Review by PennyAnne
16/06/2015
Brilliant collection of short stories examining the dark side of human nature. Well rounded characters, believable stories - definitely gets you thinking ''what would I do in that situation''.
Review by deargreenplace
16/06/2015
Again I am surprised by how much I enjoyed these stories, after so many years not reading anything by this author. This collection contains 4 stories, two of which are fairly derivative of classic horror tales, but still enjoyable to read. 1922 - a man rows with his wife about some inherited farm land.Big Driver - a female author is given directions for a short-cut on her way home from a book signing session in another town.Fair Extension - a dying man stops to talk to a roadside vendor, and ends up making a purchase.A Good Marriage - a wife discovers that her dull accountant husband of 27 years has been hiding something.Of these, I liked Big Driver the most, and then A Good Marriage. The others I felt had been told so many times before. King acknowledges this of course, and it doesn't lessen his storytelling in any way. He has a good insight into people, I think, and it's always my favourite thing to be reading a book that keeps me awake until the early hours.
Review by Marlene-NL
16/06/2015
Just finished the second story and I am very much enjoying it. Had totally forgotten I had bought this book before I got my kindle.<br/><br/>Update July 27.<br/><br/>Well finished this book yesterday afternoon. (It was so good I had to finish the last story in the afternoon, instead of waiting till I was in bed).<br/><br/>Loved all 5 stories. In the paperback version we got an extra story so normally it would have been 4.<br/>(I would be so pissed if I had paid so much money for a hardback, to then find out they give an extra story to the people who bought the cheaper paperback version.<br/><br/>Sorry I do not have the book with me, so cannot be specific.<br/><br/>Will try and add more when I have it and can resume my thoughts.