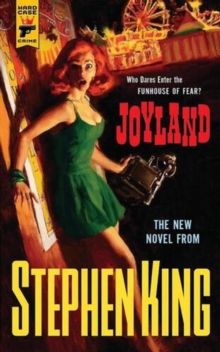 Description
Set in a small-town North Carolina amusement park in 1973, Joyland tells the story of the summer in which college student Devin Jones comes to work as a carny and confronts the legacy of a vicious murder, the fate of a dying child, and the ways both will change his life forever. "I love crime, I love mysteries, and I love ghosts.
That combo made Hard Case Crime the perfect venue for this book, which is one of my favorites.
I also loved the paperbacks I grew up with as a kid, and for that reason, we're going to hold off on e-publishing this one for the time being.
Joyland will be coming out in paperback, and folks who want to read it will have to buy the actual book." - Stephen King
Information
Format: Paperback
Pages: 304 pages, illustrations
Publisher: Titan Books Ltd
Publication Date: 01/06/2013
Category: Crime & mystery
ISBN: 9781781162644
Other Formats
EPUB from £3.99
Hardback from £12.55
eAudiobook MP3 from £15.08
Free Home Delivery
on all orders
Pick up orders
from local bookshops
Reviews
Showing 1 - 5 of 104 reviews.
Previous | Next
Review by bonniemarjorie
16/06/2015
I was ultimately disappointed at the lack of focus on the Joyland killer. My expectations was that was the point of the book but it essentially ended up focusing more on the main character 'coming of age'. Well written but certainly not my favorite King.
Review by Bookmarque
16/06/2015
"When it comes to the past, everyone writes fiction" - p. 43Caveat - yes this is a Hard Case Crime publication, but like his first book for this imprint, it doesn't quite fit the bill. Sure there's a killer, but there isn't anything else even remotely related to what I think of as hard case crime, hard boiled or even plain old detective fiction. That being understood, let's move on.Out of the gate, Devin's character seems autobiographical. He's a work-study kid, he's tall, he's got his heart set on marrying his college sweetheart, he wants to be a writer and he's a romantic. The back of my book says he's going out of his home state (Maine, where else?) to work to try to forget about that same college sweetheart after she dumps him, but that's not quite accurate. While they are separated, they aren't broken up and the Dear Dev letter arrives in due course. But that's not the story, and neither is who killed Linda Gray. No, those are secondary to the real tale; Dev's final spasm of growing up.The story is a familiar one. Dev is dropped into the lives of a kid and his mom. The kid has a slight psychic ability. He's physically disabled. Dying, actually. Mom is at first cold and standoffish, but she comes around (and how!). In addition to the kid's patina of the supernatural, there is another dollop of it added to the mix. A ghost. Madame Fortuna. A sighting. Aside from the carnival aspect, it reads a lot like Bag of Bones. The strange apparition or the extra-sensory capabilities aren't the story, no they're just local color. Like most other King stories, this is one of human connections. How if we give of ourselves freely we will be rewarded with more emotional riches than we ever imagined. It's also about the futility of trying to go against fate. How your destiny is your destiny and fate will drag you to it kicking and screaming if she has to.So if you're expecting a fast-moving thriller full of clues and bad guys, this isn't the novel for you. If you're a King fan already, you'll appreciate this even though it doesn't really go into any new territory or tell a story we don't already know. It moves slower and gives us the interior of a young man's life as he tries to break out of childhood without getting too many scars. It has great bits of foreshadowing which to quote part of the book, gives us a "trickle of unease", which is all we really want in the end, isn't it?
Review by MichealFraser
16/06/2015
This is the perfect summer read. Devin Jones, a college student, takes a summer job at a small amusement park in North Carolina in 1973. He soon becomes more than interested in the story of a young woman who was murdered in the Horror House fun ride four years previously. Perhaps immersing himself in the job and this mystery and hanging out with new friends will let him start to get over his girlfriend who ruthlessly dumped him by letter at the beginning of the summer.Stephen King is a masterful storyteller and he is at the top of his form here as you get totally involved in Devin Jones's, his friends and the world of the Carny world of Joyland. Soon, things take an unexpected turn as you might expect from King and Devin decides to delay college and stay on at Joyland for the fall and Devin the college boy becomes a man.Excellent read. I literally couldn't put it down and swallowed it all in one sitting.
Review by hemlokgang
16/06/2015
A 10 year old with Muscular Dystrophy and second sight, a 21 year old working at an amusement park while getting over a break-up, losing his virginity, and solving a cold murder case, and of course......Howie the Hound Dog....Intrigued yet? This is a relatively short Stephen King novel which was engaging and intriguing. How does one find joy amidst sorrow? Try reading this for some hints.....
Review by Dianekeenoy
16/06/2015
Excellent. Made me glad I had surgery so I could just read and recuperate! Stephen King never fails to please!
Also in the Hard Case Crime series | View all