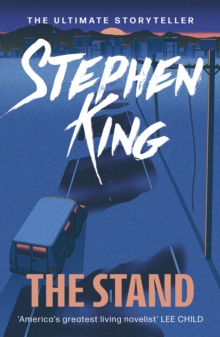 Description
First came the days of the plague. Then came the dreams.Dark dreams that warned of the coming of the dark man. The apostate of death, his worn-down boot heels tramping the night roads. The warlord of the charnel house and Prince of Evil.His time is at hand. His empire grows in the west and the Apocalypse looms.When a man crashes his car into a petrol station, he brings with him the foul corpses of his wife and daughter.
He dies and it doesn't take long for the plague which killed him to spread across America and the world.
Information
Format: Paperback
Pages: 1344 pages
Publisher: Hodder & Stoughton General Division
Publication Date: 01/05/2011
ISBN: 9781444720730
Other Formats
EPUB from £6.99
Paperback from £11.45
Free Home Delivery
on all orders
Pick up orders
from local bookshops
Reviews
Showing 1 - 2 of 2 reviews.
Review by eleanor_eader
16/06/2015
I'm not sure why I haven't reviewed <i>The Stand</i> yet. I've read it about twenty times; it was my go-to comfort read as a young adult; I loved the journeying and the desolation of an empty world. Maybe because I'm not sure what I can add to the wealth of reviews (of the un-cut version alone)... it's a post-apocalyptic page-turner with some of King's most enduring characters and mind-blowing events.Still, I recently had the misfortune of reading <i>Mr Mercedes</i>, and my mind now needs the palate cleanser of thinking about something that's actually well written and not a colossal waste of the reader's time. I've already reviewed his middle and later works (I'd love to rave about <I>Duma Key</i> all over again), but here's <i>The Stand</i>, one of the most astonishing examples of raw writing-prowess, un-reviewed, and last read by me just a year ago, when I updated my very sad book-club copy to a nice fresh paperback with a spine that <i>doesn't crack</i>. What do you call those, by the way? Beside miraculous, I mean.So, without comparing to that regrettable adventure in lame serial killers and retired cops with questionable wits, a quick exercise in what King does well, from the book where he (arguably) did it the best:World-building: you build up by breaking down. King decimates the USA and it's thrilling to watch it unfold through multiple points of view. What would have been an overlong introduction to the new US through one set of eyes is instead a terrible patchwork of gripping cameos, interspersed with character introduction. Flawed protagonists; Larry Underwood, step forward. "There's something in you that's like biting on tinfoil." "You ain't no nice guy." Larry was a dick, who redeemed himself, and both sides of him made a complete character. Hero protagonists; Stu, the good ol' boy who steps forward in a time of crisis and gets the girl. He gets the gig by virtue of surviving, and then proves himself worthy. Nothing remarkable, except for the solid characterisation that kept him from being boring.'Special people': by which I refer to the mentally handicapped psychic, especially young and vulnerable psychic, and the man who combines both traits; Tom Cullen. M-O-O-N that spells the character you would most like to decorate with. Frightening antagonists: Flagg. Let me make this clear. A magic man walks out of nowhere with no history and is more convincing a threat than many a horror tale has conjured. When King decides to draw someone well, you believe in them absolutely. Speaking of which...Sympathetic villains: Oh Harold, you troubled bastard, why did you have to be so well written? When I tell people one of my favourite King characters is Harold Lauder, I sound like a sociopath.Unnerving imagery: weasels in the corn. Crows and wolves. Nadine's hair. The eye, the key, the stone. Someone coughing. Just play around with those for a bit, Mr King, don't mind us over here having nightmares. Chemistry in pairings: Nick Andros and Tom Cullen (journey in). Stu and Tom Cullen (journey out). Frannie and Stu (book version, please), Stu and Glen, *picks self up from floor*, Larry and Joe. There were many meetings of minds in <i>The Stand</i> and each section of dialogue soared beyond the sum of its parts.… There, that feels miles better. In fact, I think a year might be a whiles too long between re-reads.
Review by KerryD1971
16/06/2015
I read the edited version 20 years ago. This was even more satisfying. Sets the standard for apocalyptic fiction.