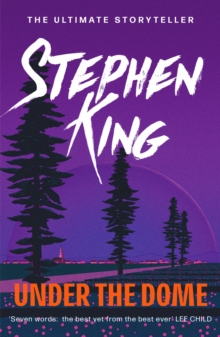 Description
The second season of the television adaptation of UNDER THE DOME will receive its UK premiere on Channel 5 on Monday, August 25th (produced by Steven Spielberg).
King's bestselling novel centres on a small town suddenly and inexplicably sealed off from the rest of the world by an invisible dome.In UNDER THE DOME, King has produced another riveting masterpiece.
The end of every chapter hooks you into the next, drawing you inside a psychological drama that is so rich, you don't read it, you live it.It is the story of the small town of Chester's Mill, Maine which is inexplicably and suddenly sealed off from the rest of the world by an invisible force field.
No one can get in and no one can get out.The normal rules of society are suddenly changed and when food, electricity and water run short, the community begins to crumble.
As a new and more sinister social order develops, Dale Barbara, Iraq veteran, teams up with a handful of intrepid citizens to fight against the corruption that is sweeping through the town and to try to discover the source of the Dome before it is too late . . .
Information
Format: Paperback
Pages: 896 pages, Black and white map
Publisher: Hodder & Stoughton General Division
Publication Date: 07/07/2010
ISBN: 9780340992586
Other Formats
EPUB from £6.99
CD-Audio from £9.75
eAudiobook MP3 from £33.59
Free Home Delivery
on all orders
Pick up orders
from local bookshops
Reviews
Showing 1 - 5 of 6 reviews.
Previous | Next
Review by pauliharman
16/06/2015
Superb tour-de-force from King. What would happen if a community was cut off from the rest of the world - still able to communicate through the invisible barrier, but not travel? This novel deals with issues about herd mentality and the stupidity of crowds. The devastation of the climax is shocking but inevitable, but the ending of the main antagonist was somewhat disappointing - although I doubt any possible punishment would have been sufficiently just.
Review by Crayne
16/06/2015
Under the Dome is pure unadulterated King. That means petty smalltown evil, believable characters both good and bad, some sex, a lot of violence coming from people you wouldn't expect it from and writing that keeps you turning the page. The plot itself is incredibly engrossing and a very interesting take on that staple of zombie movies since Night of the Living Dead: what happens when people are cut off from civilisation? However, it being King at its core also means said plot hinges on something that made my suspension of disbelief not just leave the room, it made it leave the continent, exiling it to the jungles of the Amazon until the devil goes skating to work. As with other books, the single point of failure in this book is the meta explanation for the big bad McGuffin that keeps the story interesting. I won't spoil what causes the dome, but I would have been a lot happier with the book as a whole if it had actually been God's work, tieing in nicely with Piper Libby's qualms about the existence of said omnipotent being. There's a miniseries in the works and it's not hard to see why. Once again King has produced a book so filmable it's amazing it's taken this long to get it into production. Coming in at 877 pages in the edition I have in my possession it's definitely not light reading (in a very physical sense), but well worth carrying around.
Review by ChrisAdonn
16/06/2015
Loved the beginning of this book, but by the middle it started a slow decline and ended with a less than satisfactory finish. Don't get me wrong, the gore, human depravity and goodness, hero's and villains were all there in abundance. Yet, that spark was just missing. I kept waiting for the utter brilliance I expect from this author, but it never made a lasting appearance. There were some sparks of the stuff, but not nearly enough considering the length of the read. After all is said and done it is far from the worst book I've ever read but it won't make my memorable, favorite, or brilliant list.
Review by gogglemiss
16/06/2015
This is the first Stepehen King, that I have read, and while I was open minded about it, I was drawn in deeply to the story. So drawn in, that it began to interfer with normal life. I couldn't wait to finish what I was doing to find out what happened next. Now I've finished, my life can go back to normal.If there is one criticism, i is there was to much killing, many heads being blown off.Otherwis, brilliant, exciting. bleak and depressing.
Review by deargreenplace
16/06/2015
Don't mistake this for one of those hefty and disposable airport novels (though it is quite hefty if you're one of those people who still like to read real books). And don't go into it expecting classic Stephen King horror / terror that he's so renowned for.I'll admit that I hadn't read any of his books since Misery in the early 1990s, and didn't think I'd missed much. Like lots of people, I read most of his famous books when I was a teenager and kind of grew out of them.Under the Dome isn't much like Cujo or Christine or The Shining. What King reveals here is is real talent for drawing small town life. Okay, so some of the characters are a little cliched (feisty journalist / retired soldier / corrupt mayor anyone?), but this is a fascinating and enjoyable read.The citizens of Chester's Mill are going about their business one autumn day when a series of accidents lead them to realise that their town has been enveloped by an invisible dome. Chaos ensues, of course, as people soon adapt to being trapped, some of them quickly using it to their advantage. Others set out to find out what the Dome is, where it came from, and how to get rid of it.King is great at writing the lives of New Englanders, and I think I probably missed this when I was younger. Overall, I thought Under The Dome was a 4 star book, but the final revelations seemed weak compared to the strength of the rest of the book, so it gets marked down for that. I am going to revisit The Stand though, and give some of his other recent titles a fair shot.