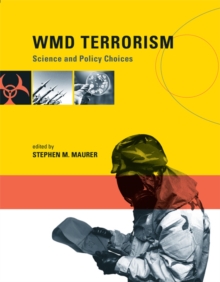 WMD Terrorism : Science and Policy Choices
Paperback / softback
Description
This first comprehensive overview of what scientists and scholars know about WMD terrorism clears away many of the misconceptions that surround this topic. Terrorism by means of weapons of mass destruction (WMD) has been studied for decades-since the Cold War and fears of secret agents with suitcase-sized atomic bombs.
Although WMD research has accelerated since September 11, 2001, much of this scholarship is hard to find, forcing nonspecialists to fall back on gut instinct and Beltway cliches.
This book provides the first full-length, up-to-date, comprehensive review of what scientists and scholars know about WMD terrorism and America's options for confronting it.
It also identifies multiple instances in which the conventional wisdom is incomplete or misleading.
WMD Terrorism provides multidisciplinary perspectives on such topics as terrorist incentives for acquiring WMD; nuclear, radiological, biological, and chemical weapons technologies and genetically engineered weapons; sensor technologies; mathematical methods for analyzing terrorist threats and allocating defense resources; the role of domestic U.S. politics in shaping defense investments; port and airport defense; response and recovery technologies for WMD-contaminated sites; R&D incentives for bioweapon vaccines and other homeland security technologies; psychological treatment of WMD survivors; and international initiatives to limit WMD proliferation and fight terrorism. ContributorsGary Ackerman, Jeffrey M. Bale, Deborah Yarsike Ball, Eugene Bardach, Jason Christopher, C.
Norman Coleman, Lois M. Davis, Thomas Edmunds, Peter Gordon, Blas Perez Henriquez, Dwight Jaffee, Robert Kirvel, Simon Labov, Stephen M.
Maurer, James E. Moore II, Michael Nacht, Michael O'Hare, Qisheng Pan, Ji Young Park, Ellen Raber, Harry W.
Richardson, Jeanne S. Ringel, Thomas Russell, George W. Rutherford, Christine Hartmann Siantar, Tom Slezak, Page O.
Stoutland, Tammy Taylor, Michael Thompson, Richard Wheeler
Information
Format: Paperback / softback
Pages: 624 pages, 30 figures, 37 tables (5 are Boxes); 35 Illustrations, unspecified
Publisher: MIT Press Ltd
Publication Date: 31/07/2009
Category: Terrorism, armed struggle
ISBN: 9780262512855
Also in the The MIT Press series | View all