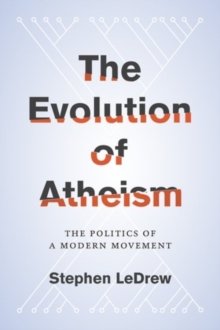 The Evolution of Atheism : The Politics of a Modern Movement
Hardback
Description
Despite its seemingly straightforward premise-the rejection of religion-atheism has a complex history and an uncertain future.
In this groundbreaking, cross-disciplinary study of the New Atheism movement, Stephen LeDrew fills a void within current scholarship on the subject by approaching New Atheism critically and historically, both as an intellectual current as well as a global movement.
The book's title reflects the ways in which atheism has changed and become more complex since it was born in the Enlightenment.
But it also points to the central importance of the concept of evolution in the dominant form of atheist discourse, which involves both defending Darwinian evolution against religious beliefs and applying the theory of evolution to humanity's social development.
The Evolution of Atheism examines this "scientific" version of atheism that defends, above allelse, a narrative of modernity as an evolutionistic progression from superstition and ignorance to scientific rationality.
Yet this stands in contrast to the other forms of atheism, which take a very different approach to religion and modernity, and are rooted in very different political visions.
LeDrew arguesthat these evolving understandings of what atheism means, and how it should be put into action, are threatening to irrevocably fragment the movement. Drawing from campaigns, publications, podcasts, and in-depth interviews, LeDrew offers a picture of a movement confounded in its attempts to define itself by a complex and sometimes self-contradictory set of discourses, and of groups of people united only by their lack of faith struggling to maintain cohesion in the face of deep divisions.
Information
Format: Hardback
Pages: 280 pages
Publisher: Oxford University Press Inc
Publication Date: 05/11/2015
Category: Philosophy of religion
ISBN: 9780190225179