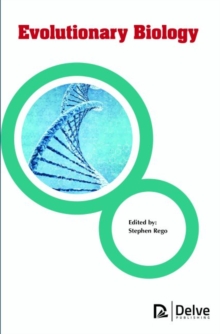 Evolutionary Biology
Hardback
Description
Every biological system is the outcome of its evolutionary history: therefore, evolutionary history is very important to understand biology.
Evolutionary biology is the subfield of Biology that deals with Evolutionary processes that produced diversity of life on earth, starting from single organism.
It is important to know about your ancestors, environment and history.
As not only the organisms evolved but their environments also evolved with time. This book compiles valuable knowledge about "How Life Started from Scratch" to "Evolution at Its Extreme." When we thought deeply about all living beings from smallest to largest and simplest to complex life forms, similar questions come into mind.
How did life start? Which was the first living creature on earth. How did other organisms appear? If all life forms are a product of evolution or creationism?
This book contains huge amounts of information about all these questions for readers. The concept of evolution arose long before Darwin.
This concept had its roots in Greek times. However, Greek philosophers had only given their views, but not in detail.
They also didn't do any experiment to prove their views.
Aristotle was the first Natural Historian who did work in some detail.
He arranged the organisms on the scale, known as Scala Naturae, from inanimate creatures to the complex structure which is human.
Other scientists like John Ray, Antonie van Leeuwenhoek, James Hutton, Charles Lyell, George Cuvier, Lamarck, Carolus Linnaeus and Darwin's own grandfather Erasmus Darwin contribute much to the thought of evolution. Charles Darwin is considered as the "Father of Evolutionary Biology" greatly contributes to science of evolution.
Darwin did his work in complete detail that told us clearly about the processes regarding evolution.
He gave his views in his remarkable book; On the Origin of Species by Means Of Natural Selection.
He gave his concepts regarding the factors that are involved in evolution and caused Speciation.
However, this book Evolutionary Biology includes knowledge about Darwin's work and further information about how life evolved, how prokaryotes converted into Eukaryotes, how vertebrates transforms into primates, and how primates transform into human beings.
This book contains detailed work done by different scientists regarding evolution and their clear views regarding evolution.
Efforts have been made to include valuable knowledge so that readers can clearly understand concepts about Evolutionary biology.
Information
Format: Hardback
Pages: 256 pages
Publisher: Arcler Education Inc
Publication Date: 01/11/2017
Category: Evolution
ISBN: 9781773613185
Free Home Delivery
on all orders
Pick up orders
from local bookshops