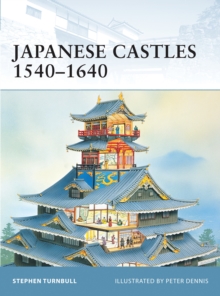 Japanese Castles 1540-1640
Paperback
Part of the Fortress series
Description
The most familiar characteristics of the traditional Japanese castle are the huge sloping stone walls and the graceful yet militarily sophisticated structures built on top of them.
This title covers the entire period of Japanese castle development from the first introduction of stone walls and tower keeps in the mid-16th century, through the period of the great sieges of Japanese history - Nagashino (1575), Kitanosho (1583), Odawara (1590), Fushimi (1600), Osaka (1615) and Hara (1638), the last of the battles that brought an end to a period of intense internal strife known as the Sengoku Jidai (Age of Warring Battles).
Information
Format: Paperback
Pages: 64 pages, 4 b&w and 46 colour illustrations
Publisher: Bloomsbury Publishing PLC
Publication Date: 20/04/2003
Category: Castles & fortifications
ISBN: 9781841764290
Other Formats
PDF from £8.79
EPUB from £8.24
Free Home Delivery
on all orders
Pick up orders
from local bookshops
Reviews
Showing 1 - 1 of 1 reviews.
Review by Yamamura
16/06/2015
Illustration and Images: 4 of 5 starsContent: 3 of 5 StarsIf you are looking for a primer for Japanese Castles, then this book is great for it. But if you are looking for something more in depth, I would look elsewhere. While Mr. Turnbull does an excellent job of describing the basic set up and aspects of construction of the castle, the other sections of the book leaves much to desire. I especially found the chapter of castle life very sparse and lacking. Also he has a tendency to state interesting facts but never quite follow them up to the satisfaction of the reader. A good example of this is on page 35 when he discusses the story of a thief who ties himself to a kite to steal the gold scales of the shachi (the dolphin on top of the castle keep used to ward off misfortune) of Nagoya castle. This is further seen in the operational history section, where he seems to just ramble off facts about castles and sieges leaving the reader's appetite stimulated but not sated.On the plus side, Peter Dennis's illustration lends itself nicely to Turnbull's text as do the photographs. This is a nice aid, as sometimes I found the written description hard to imagine and the pictures help gelled an image in my mind. The only complaint I have is that description of Azuchi in the book states that the topmost room was octagonal, yet in the images of it, the top room is rectangular and the second to the top is the octagonal one. Also as a gamer, I also wish there was more maps but one can't always get everything.Please don't get me wrong, there is a lot of good information in this book about general layout of a Japanese castle and their defenses and I will probably use it as quick reference material. This though is why I consider it a primer, it left me wanting more information and curious to see if there are better books on castles (maybe ones with maps).