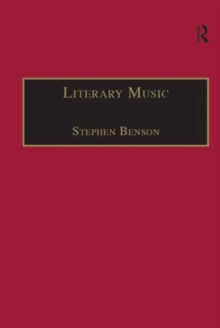 Literary Music : Writing Music in Contemporary Fiction
Hardback
Description
Music is commonly felt to offer a valued experience, yet to put that experience into words is no easy task.
Rather than view verbal representations of music as somehow secondary to the music itself, Literary Music argues that it is in such representations that our understanding of music and its meanings is constituted and explored.
Focusing on recent fictional and theoretical texts, Stephen Benson proposes literature, narrative fiction in particular, as a singular form of musical performance.
Literary Music concentrates not only on song and opera, those forms in which words and music overtly confront one another, but also on a small number of recurring ideas around which the literary and the musical interact, including voice, narrative, performance, and silence.
The book considers a wide range of literary and theoretical texts, including those of Blanchot and Bakhtin, Kazuo Ishiguro, Vikram Seth, David Malouf and J.M.
Coetzee. The musical forms discussed range from opera to the string quartet, together with individual works by Elgar, Strauss and Michael Berkeley.
As such, Literary Music offers an informed interdisciplinary approach to the study of literature and music that participates in the lively theoretical debate on the status of meaning in music.
Information
Format: Hardback
Pages: 192 pages
Publisher: Taylor & Francis Ltd
Publication Date: 24/07/2006
Category: Music: styles & genres
ISBN: 9780754635536