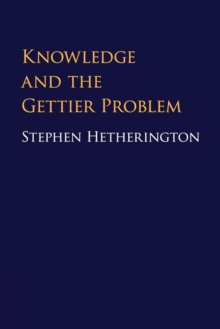 Knowledge and the Gettier Problem
Paperback / softback
Description
Edmund Gettier's 1963 verdict about what knowledge is not has become an item of philosophical orthodoxy, accepted by philosophers as a genuine epistemological result.
It assures us that - contrary to what Plato and later philosophers have thought - knowledge is not merely a true belief well supported by epistemic justification.
But that orthodoxy has generated the Gettier problem - epistemology's continuing struggle to understand how to accommodate Gettier's apparent result within an improved conception of knowledge.
In this book, Stephen Hetherington argues that none of epistemology's standard attempts to solve that problem have succeeded: he shows how subtle yet fundamental mistakes - regarding explication, methodology, properties, modality, and fallibility - have permeated those responses to Gettier's challenge.
His fresh and original book outlines a new way of solving the problem, and an improved grasp of Gettier's challenge and its significance is the result.
In a sense, Plato can now embrace Gettier.
Information
Format: Paperback / softback
Pages: 253 pages
Publisher: Cambridge University Press
Publication Date: 03/01/2019
ISBN: 9781316603970