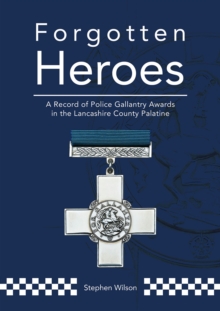 Forgotten Heroes : A Record of Police Gallantry Awards in the Lancashire County Palatine
Paperback / softback
Description
Forgotten Heroes brings together, for the first time, a detailed record of all gallantry awards granted by the nation's sovereign in recognition of the bravery of almost 400 police officers throughout the ancient Lancashire County Palatine.
The Palatine jurisdiction remains that of the reigning sovereign, the Duke of Lancaster, and extends from Lake Windermere and Furness in the north to the River Mersey in the south, and from the west coast to the Pennines and Yorkshire Dales in the east.
It includes the present-day Lancashire and those parts now within the administrative counties of Cheshire, Cumbria, and most of Greater Manchester and Merseyside. The book chronicles all awards since the institution of the King's Police Medal in 1909, when the nation began recognising bravery where police officers have risked their lives carrying out their duties.
It covers more than a century of gallantry, commencing with the first award given in 1911 to a Preston officer, through to the present day. Gallantry awards are not readily given and represent conscious deeds and actions, involving risk of death or injury, which go above and beyond those expected.
As well as courage displayed during the arrest of armed and dangerous criminals, incidents include the rescue of persons from fires, water, trapped underground, from high buildings and during wartime from bombed and burning buildings.
Among the most poignant are the posthumous awards, which include Detective Inspector James O'Donnell, who died after being shot during the Brewery Street Siege in Blackburn in 1958.
He was attempting to negotiate with the hostage taker who had earlier shot another officer, and after shooting Inspector O'Donnell the man killed his wife.
Also featured is the incident involving Superintendent Gerald Irving Richardson, who was shot attempting to arrest one of a gang of armed robbers in Blackpool in 1971.
Two officers had earlier been shot and wounded. Recognition of the bravery displayed that day saw the unprecedented number of two George Crosses and four George Medals, plus two British Empire Medals for Gallantry and a Queen's Commendation for Brave Conduct awarded to the officers involved.
Superintendent Richardson is the highest ranking police officer to have been murdered on duty in modern times. In addition to retelling the circumstances of why the awards were made, Stephen Wilson provides information about their historical context, and has had privileged access to draw upon police records not normally available to the public to detail the incidents.
He includes details of awards as published in the official London Gazette and, where available, biographical details and pictures of the officers, their medals and memorials; and in doing so ensures these brave officers are no longer `Forgotten Heroes'.
Information
Format: Paperback / softback
Pages: 388 pages
Publisher: Stephen Wilson Publishing
Publication Date: 06/12/2018
Category: British & Irish history
ISBN: 9781916424708
Free Home Delivery
on all orders
Pick up orders
from local bookshops