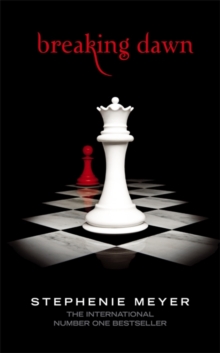 Breaking Dawn : Twilight, Book 4
Hardback
Description
To be irrevocably in love with a vampire is both fantasy and nightmare woven into a dangerously heightened reality for Bella Swan.
Pulled in one direction by her intense passion for Edward Cullen, and in another by her profound connection to werewolf Jacob Black, she has endured a tumultuous year of temptation, loss and strife to reach the ultimate turning point.
Her imminent choice to either join the dark but seductive world of immortals or pursue a fully human life has become the thread from which the fate of two tribes hangs.Now that Bella has made her decision, a startling chain of unprecedented events is about to unfold with potentially devastating and unfathomable consequences.
Just when the frayed strands of Bella's life - first discovered in TWILIGHT, then scattered and torn in NEW MOON and ECLIPSE - seem ready to heal and knit together, could they be destroyed. . .forever?
Information
Format: Hardback
Pages: 768 pages
Publisher: Little, Brown Book Group
Publication Date: 24/05/2008
Category: Fantasy
ISBN: 9781905654284
Other Formats
Paperback from £7.25
EPUB from £5.99
Free Home Delivery
on all orders
Pick up orders
from local bookshops
Reviews
Showing 1 - 5 of 5 reviews.
Review by elliepotten
16/06/2015
I know I'm fighting the 'love it or hate it' war here - but I am an unashamed Meyer fan and have finally had the chance to read the last book in the Twilight saga. I started it on holiday, made time to read it over cheesecake back home, and finished it in tears over breakfast this morning.I can't really say much about it in case other LT-ers haven't read it yet, but suffice to say that Bella finally gets vamped, with the rest of the book revolving around her new experiences, her place in Forks and her new family, and the remaining conflicts that haven't been resolved in the previous three novels.It definitely didn't have quite the same 'can't put it down!' breathless thrill of the other three books, but the twist to the narrative voice of Bella in her new role kept it fresh and added a new slant which was very interesting to read. This book was powerful in a different way, with stronger relationships and more touching interactions which were at times quite poignant. All in all, another hit for Meyer and a fitting end to the saga!
Review by riverwillow
16/06/2015
OK so now they're married, less like a Mills and Boon and more like a Mills and Boon version of an erotic novel. And the twist with the fast growing baby is ludicrous. Not much tension in the fight scene either. Apparently she's not going to write any more because stuff was leaked on the internet, which may be a blessing.
Review by seldombites
16/06/2015
Breaking Dawn is the culmination to the Twilight Saga and it is, by far, the best of the four books. We finally see some long-anticipated events as well as some highly unexpected developments. I just love who Jacob finally imprints on! In addition, Meyer's experience is evident. There is a marked contrast between the first and last books. Breaking Dawn is better written and the characters filled out far more than they were in Twilight. I was very sad to reach the end of this book.
Review by bleached
16/06/2015
I have to admit I was disappointed in the last book. Although, the language sucked you in, it plateaued and dragged for most of the book with mushy goo goo and unimportant new vampire experiences. Then when the action started to finally pick up again it suddenly dropped as if Meyers had just lost interest and said "Screw it..they lived happily ever after. The end." It was also disappointing that Bella, the flawed and slightly annoying heroine, became PERFECT and saved the day. Very cliche. A good idea, with amazing language but over-flowing with broken promises of excitement and action.
Review by JillKB
16/06/2015
I enjoyed this series far more than I expected, and the last book was good. It had some definite twists I didn't expect. I loved Jacob's chapter headings -- they were hysterical.
Also in the Twilight Saga series | View all